Saturday Michigan players will wear a special '87' decal on their helmets in honor of the great athlete Ron Kramer who passed away last week.   Here's what it will look like on the winged headgear (HT: U-M Media Relations):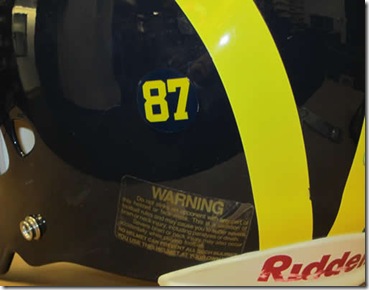 Ron Kramer helmet decal
Not every Michigan football great got the opportunity to wear a jersey number, including but not limited to Willie Heston, Germany Schulz and Neil Snow.
1930 was the first year uniform numbers showed up in a Michigan team photo, but we know digits were worn on the gridiron sweaters in the 1920s as the great Bennie Oosterbaan (who played from 1925-1927) donned #47 which was later retired.  
In fact the practice goes back a bit earlier, according to the Bentley Library roster database, 1915 is the first season in which footballers had numbers assigned to them (HT: Brian at the Bentley). 
Trolling through the 1910 Michigan Daily archives, I found a brief discussion on whether Yost's men should don digits on their numberless backs.  Apparently eastern teams wore numbers and there was a legitimate question of whether Michigan should join them. 
Yost saw it as counter to the team concept, telling the Daily, "..it brings the individuals into too much prominence.  The team is a machine and should be considered as such and not their individual efforts."
Baseball captain Norman Hill comments echoed Yost's sentiments but he also noted, "It looks queer to me."  (It's unknown if the Daily reporter told Hill, "No, you are.")
Here's the entire piece from the front page of the Tuesday, October 11, 1910 edition of the Michigan Daily: