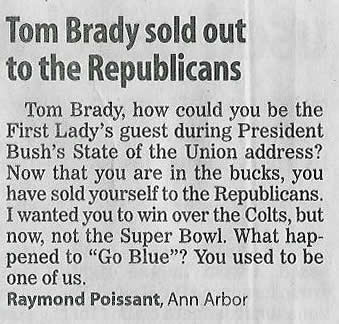 Nobody Loves Raymond
SALINE, MICHIGAN FEBRUARY 3, 2004 Yes, above is another brilliant letter that was recently printed in my hometown fish wrap, the Ann Arbor News.
This is what I like to call a "stopper". A stopper is something that appears in the newspaper that once you read it, you are unable to read or do anything else for several minutes. You kind of just stare off into the distance, trying not to freak out. Here's another example of a stopper as reported here a few months ago.
"What happened to 'Go Blue'? !! My nerves! I believe big Ray's last name is pronounced PISS-ant.