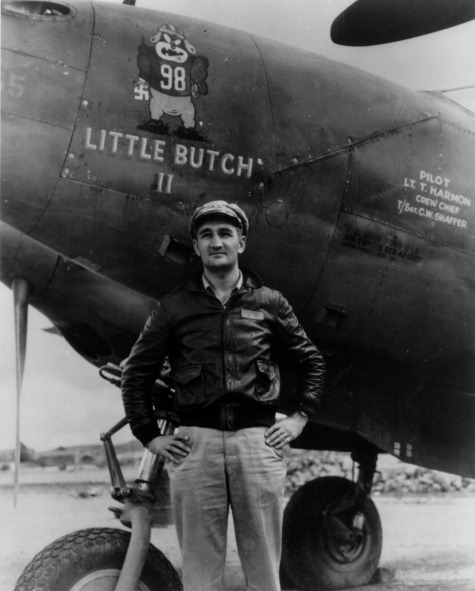 U-M Bentley Historical Library
A few hours after I published this post discussing how the Michigan Football Legends program has spawned fresh materials on these guys and their eras…I got this press release from the U-M Bentley Library:
Harmon of Michigan

The Bentley Historical Library is pleased to announce the opening of an exhibit, "Harmon of Michigan" focusing on the life and career of University of Michigan football legend Tom Harmon. The exhibition, in conjunction with the "unretiring" of Harmon's famed number 98 jersey this season, highlights Harmon's college career at Michigan, both as a student and an athlete. Using archival documents, photographs, and artifacts, including material recently acquired through Harmon's son, Mark Harmon, the exhibit traces Harmon's career as the University of Michigan's first Heisman Trophy winner, World War II pilot and war hero, and a pioneering radio and television broadcaster. The exhibit is curated by Greg Kinney.

The exhibit runs from September 3 to December 20, 2013.

Exhibit Hours: Monday-Friday 9:00 a.m. to 5:00 p.m., Saturdays 9:00 a.m. to 12.30 p.m.

Special Event: September 7, 2013, 12:00 p.m. to 5:00 p.m.

On September 7, the day of the Note Dame game, at which Tom Harmon will be honored, the Bentley Library will have special exhibit viewing hours. There will also be repeated showings of the 1965 television program "One Saturday Afternoon." Produced on the 25th anniversary of Harmon's Heisman Trophy win, the program was hosted by Bing Crosby. "One Saturday Afternoon" includes archival footage of Harmon's Michigan football exploits, interviews with Michigan coach Fritz Crisler and teammate Forest Evashevski. The program also features some rare footage of Harmon's early days as a television broadcaster and variety show host.

The Bentley Historical Library is located on the University of Michigan's North Campus at 1150 Beal Avenue.

Campus Bus – North Commuter, Bonisteel Boulevard and Beal Avenue stop.
Follow MVictors on Twitter