Via eBay, love this one.  Check out of few frames from a comic book featuring Michigan's Heisman winner Tom Harmon and a few of the preseason college stars heading into the 1941 season.   A true beauty.
I cropped it down to highlight the sections featuring "Tommy" Harmon, which was basically all of it: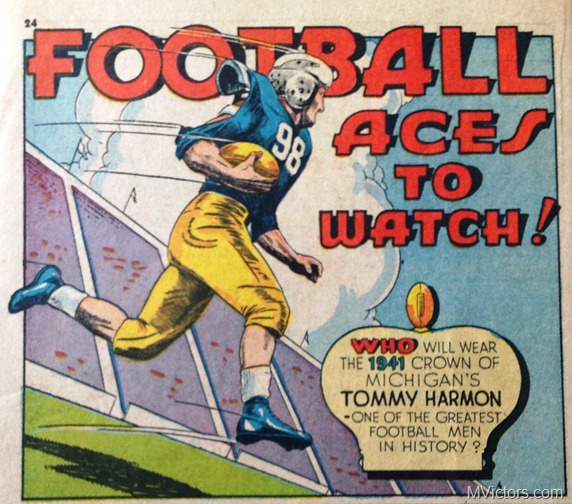 In this opening frame, Harmon's depicted with the torn jersey which is a nod no doubt to his final game at Ohio State where his jersey was ripped up during and after the game.  More on that later.   It also looks like they kinda slapped a winged helmet on his above, which is appreciated.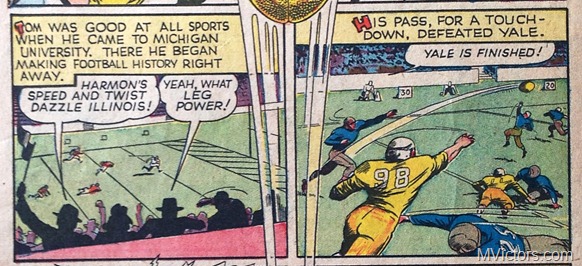 Harmon was indeed good right when he came to Michigan in 1937, but back then of course freshman couldn't suit up with the varsity.  In the '38 season he was named all-conference and indeed shined in the Yale game, coming in and tossing the game winner.   Speaking of Yale, did you know Harmon actually "applied" to go to Yale after Harry Kipke was fired in 1937?  In his only letter to the school he wrote that his credentials for admission to the Ivy League college were:"Four years of football, four years of basketball, two years of track."  LOL.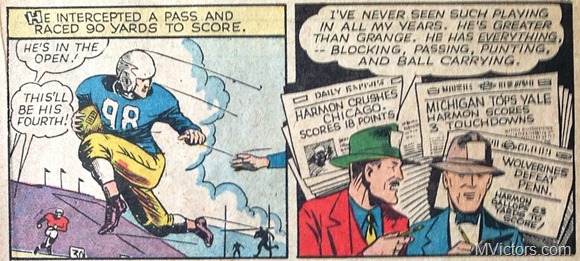 A couple things here.  First, re: his 90 yard interception return.  After Brandon Herron's 94-yard TD return in 2011 against Western Michigan I discussed whether Herron actually bested Harmon for the all-time standard.   Differing accounts had Harmon's interception between 90 and 95 yards.  So here's another one claiming 90 FWIW.In the second frame above the classic sports writers (sans stubby unlit cigar) mention Red Grange, which was certainly on the mind of folks when Harmon was doing his thing, especially after Old 98 broke Grange's scoring record in 1940.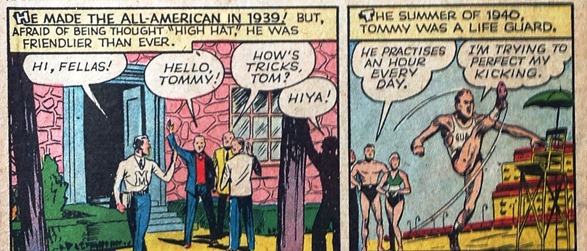 "How's Tricks, Tom?"   Hahhaa.    Regarding Harmon being a lifeguard.  True, but he didn't do that in Ann Arbor—it was back in his hometown.  Per Sports Illustrated: "He spent the summer before his senior year as a lifeguard at the municipal beach back in Gary ("and punting up and down the sand for at least an hour a day" as TIME noted) and was in shape to rule the Big Ten again."

I've read he also sold gum and worked at the campus radio station to make a few extra bucks.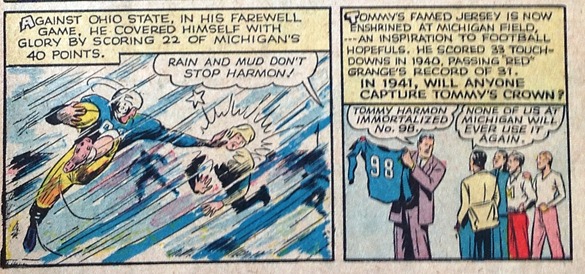 His magnum opus against Ohio State in 1940 is a classic—enough to earn a standing ovation from (and get mobbed by) the Buckeye fans after the game.   The drawing in the second frame was certainly inspired by this famous photo below of Harmon after the game in Columbus: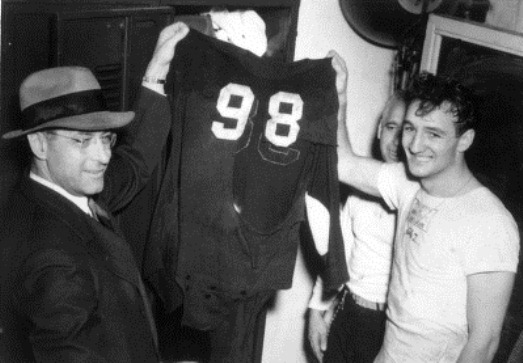 And regarding that final quote…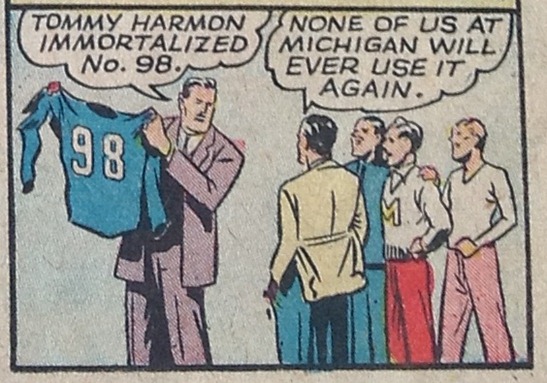 …that all changes in 2013 as someone will indeed wear the 98 once again.
All in all a classic.
My only nitpick?   No mention of the ridiculous performance in the 1940 Cal game on his birthday, especially given the fan who tried to drag him down!  Dang, they could have dedicated a couple frames to that alone and I would have loved it.   
Good thing LIFE magazine picked up the slack:
HT: Dr. Sap for spotting this auction on eBay.  If you see a good one be sure to let me know.
More on Harmon:
* Harmon and Old Number..Six?
* Tommy's the BMOC
* Tom Harmon says 'Vote Heston'
* Old 98's Son Faces Michigan, MSU
* Harmon Goes for the Gusto
Follow MVictors on Twitter