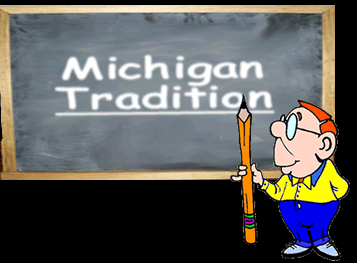 In his introduction press conference last week, Coach Rodriguez was up front about not knowing much about the Michigan football tradition. He promised to take a book on Bo Schembechler (I assume it was the new one, John Bacon's Bo's Lasting Lessons) home over the weekend and give it a read.
I think most Michigan fans are concerned about wins and losses and would trade a championship for a coach that knows, cherishes and embraces the previous hundred and thirty years of football in Ann Arbor. Fine. But there are quite a few of us around that the tradition matters. Again, not to say that an outsider can't come in and embrace it. While I'm growing tired of the Bo references to this situation, you have to consider Schembechler. Bo wasn't quite a complete outsider as was Rodriguez, but he was an outsider nonetheless and is now the quintessential M man.
Count me as a one that will be disappointed if during his Monday press conference on November 3, 2008, Coach Rodriguez fails to recount the history of the Little Brown Jug, as Coach Carr did each year during his tenure. And consider me 'blue' if we learn that Rodriguez doesn't do something each practice to prepare for Ohio State, as has been done by each opponent since the days of Woody and Bo. To get Coach Rod and any new members of the staff up to speed on Michigan football tradition, I put together a brief list of study materials:

1. Michigan Football Memories DVD. The PBS-produced special that takes you from Yost, through Crisler, to Canham to Bo to today. An incredible piece of history that certainly gives you a sense of what this place is about. It's been a little while since I watched it but the piece on the Mad Magicians, on Crisler and on Canham were particularly memorable. Get it here.

2. HBO's 'The Rivalry' If nothing else, it gives a clear picture of the passion of this game. Yes, they either forgot or failed to include Coach Carr and a great Michigan team from the 1960s [my review]. But you leave understanding two important things: 1. How the fans feel about this game and, 2. How the coaches are the real stars of this rivalry.

3. Ufer of Michigan Coach Rod and company should go get a CD, pop it in the SUV and suck down a healthy dose of former Michigan broadcaster Bob Ufer via one of his many audio collections. Is there anything better? Were talking about a guy that knew Coach Yost when he was a track star at Michigan, and called games up until the 80s. His voice is timeless and he's the reason why you still hear Meechigan belted out on the radio waves on occasion. Get your Ufer-on at Ufer.org. Need further encouragement to check out Ufer? Just read Gene Wojciechowski's piece on ESPN.com last year leading up to Ohio State game.

4. BO, by Mitch Albom Albom is by no means close to the Michigan football program anymore in fact Albom is pretty much out of touch with the Detroit area sports scene in general, but whatever, he can obviously write. The multi-platinum author of modern classics such as Tuesday's with Morrie spent some time with coach Schembechler in the last 80s and wrote an excellent book. It is required reading, you can buy it here.

5. Know your Jug I don't know of a definitive source of Little Brown Jug history, but between sites at Michigan and Minnesota there is some pretty good history. Heck, you might even find a few nuggets on a Michigan blog. Coach Rod should know who bought it, why he bought it, the circumstances as to why it was left behind, the time it was lost for a few years, and of course he should understand why we want to keep that large receptacle here in Ann Arbor.
6. Sit down with Red Simmons Coach Lloyd Carr mentioned during his retirement press conference that one of the first folks that greeted him when he took the head coaching job was former track coach Red Simmons. Coach Simmons walked into Lloyd's office, gave him some type of medal (would love to see it) and gave him this advice: When you leave this job, make sure you leave with your health, your friends and your family. The Red Simmons Invitational track meet is still held in his honor in Ann Arbor.
Red Simmons will turn 98 (that's NINETY EIGHT!) soon and he's been around this place for a long, long time. Word is that he:
– Ran track against Jesse Owens
– Trained with Joe Louis
– Was hired by Fritz Crisler
Per former RB Jamie Morris, old Red "knows where all the stones and bones are in this place". I bet! I understand that he still runs the stairs at Crisler arena EVERY DAY to stay in shape. Coach Rod, sit down and talk this this man.

7. The Bentley A final stop? Open a web browser and point it to the University of Michigan's Bentley Historical Library, in particular, its collection on Michigan football (start here). Check out the team photos over the years and gaze upon the men that have created and carried the the legacy of Michigan football. It is here that you can get a primer on Michigan stadium, the winged helmet, the coaches, All-Americans and much more.
Start there. There'll be a quiz before Spring practice opens.