The Daily [and MSC] noted earlier this week that the Michigan student section is going to attempt to form a block M within the student section at the game today:
On Saturday, when Michigan plays Wisconsin, students and Athletic Department officials hope to add another tradition to the repertoire by coordinating a human version of Michigan's iconic block 'M' in the middle of the student section.

Volunteers from the Michigan Student Assembly will hand out several thousand shirts — some maize, some blue — to fans entering certain rows.
I'll join a few others in saying I'll believe it when I see it. But best of luck. While the Michigan students have done a nice job wearing maize from week to week, I think we might end up seeing more of a smattering of blue dots that will loosely resemble a treble clef.
The stunt is touted as a new tradition, but did you know Michigan students have formed block M's in the crowd for nearly 100 years? From the cover of Historic Photos of U-M Football features the students at the 1916 Penn game doing their thing, not with t-shirts but with cards (click to enlarge):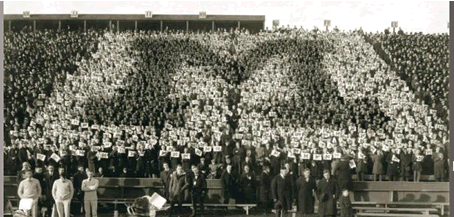 And based on this postcard from the Cornell game, we know the tradition dates back at least to 1912: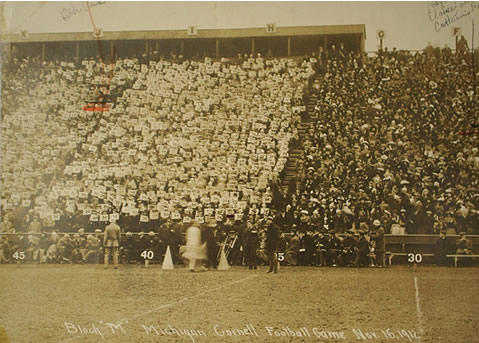 UPDATE: Hey, they did it – not too bad. Thanks for Kelly for passing this along: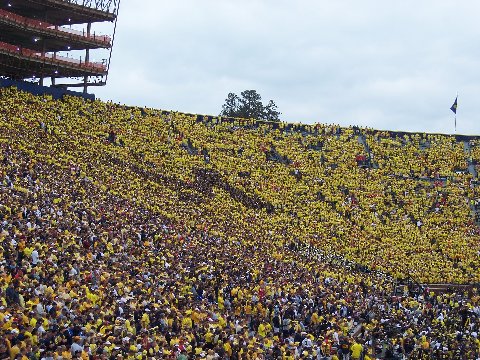 And one more, thanks to Andrew C., admin of the Facebook Student Block M group: