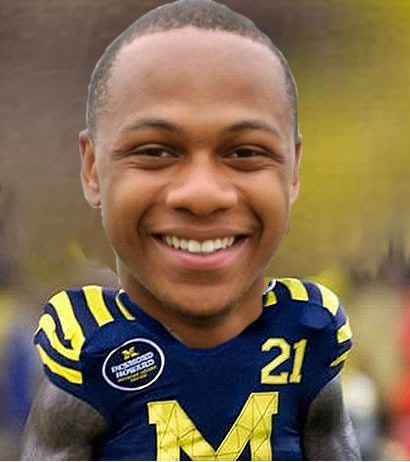 Hopefully Treezy's head doesn't go on swoll when he gets the #21
It was radio play-by-play man Frank Beckmann who asked Brady Hoke about the #1 jersey after the Spring game on Saturday:
Are you going to consider handing out the No. 1 jersey this year?

"Yeah, we'll consider it."
IIRC there was a bit of hesitation in Hoke's response and confirming that he'd "consider it" isn't exactly saying it's at the top of anyone's list.   But I do take heed that it came from ol' Blue Skies, who might have shot out the question because he knows something is in the works.
I can tell you one guy who doesn't want to talk about the #1 jersey: Desmond Howard.    He was asked about the #1 by a couple folks and he made it clear he didn't understand the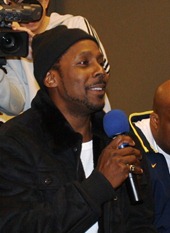 process (if there is one) or who decides how that jersey is handled.   My impression by his tone is that he was annoyed by the questions and I don't blame him.  And I don't think he's the only one at the university who feels that way.   After all, the university made it a big deal to induct his #21 as the inaugural Michigan Football Legend and it's as if, despite the fanfare around the Legend distinction, the #21 somehow still takes a backseat to the nebulous numero uno.
Saturday Desmond said he'd definitely like to see someone who "displays the talent and the character" worthy of the honor to don the #21.  I asked him about timing and he said would need to chat with Dave Brandon about it.   We'll see.
My money is that we'll see Roy Roundtree wearing the #21 this fall.   Here's why:
Yes, Rich Rod is gone but still, I don't think the athletic department is crazy about Braylon's comments about the #1 jersey over the past few years and how it's played out in the media.
They just started the Legends tradition and made a big deal about it in honoring Desmond last season.  They will want to keep it rolling to keep it fresh in everyone's mind.
I'm guessing the athletic department has it on the timeline to honor AC (and maybe Braylon) with the Legends distinction at some point down the road.
Everybody loves Treezy.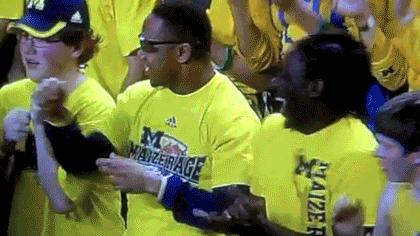 Helmet Numbers

Speaking of the uniforms, you probably noticed that the players still had the number decals on their helmets on Saturday.   Roundtree said he liked the numbers on the helmets and as a senior leader, you have to wonder if he'll have some say in the matter.   All that said, if I had to guess I'd say that they will 86 the numbers on the helmets next season.
Follow MVictors on Twitter