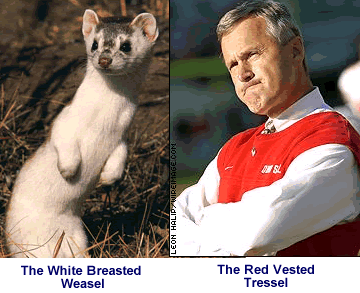 Per a blog posted on cleveland.com, the online home for the Cleveland Plain Dealer and a sister site to MLive. Coach Jim Tressel was taking a few questions during an Alzheimer's benefit, check out the exchange:
"Is there a gentleman's agreement between Big Ten coaches that once a player verbally commits to a school, the other coaches are supposedly hands off?"

This was Tressel's answer, after about a one-second pause.

"I guess only between the gentlemen."
This of course was in response to the stink raised by Joe Tiller after losing a 'committed' recruit in the 11th hour to Michigan. The author suggests that if there are "Michigan fans who wish to interpret the following as "Tressel rips Rodriguez," well, I can't stop you." No, you can't stop the truth man and that was a rip.
So what are we to do with this? Instead of breaking this down into small little pieces I'll simply draw upon the classic movie Caddyshack and share this exchange from inside the halls of Bushwood CC, as Rodney Dangerfield tries to steal a dance with the wife of his adversary:
Al Czervik: You're a lot of woman, you know? You wanna make 14 dollars the hard way?
Judge Smails: You! You! You're no gentleman!
Al Czervik: I'm no doorknob either, alright?