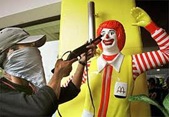 Bless his heart, Kyle Turley is still bitter that Hoke left San Diego State for Michigan.   And someone somewhere in Chicago is bitter that Obama left Illinois for the White House.
Rich Rodriguez had the entire State of West Virginia, Rick Heim, and about 30% of the Michigan fanbase bitter about how his hiring went down. 
Here's the clip from the end of Turley's interview on Jim Rome Wednesday:
Kyle Turley on Rome
Play Now
|
Play in Popup
|
Download
Turley also cited Steve Fisher as the example of a guy who could have left SDSU for a bigger program but stayed, noting how Fish led SDSU to the Final Four last year (?).