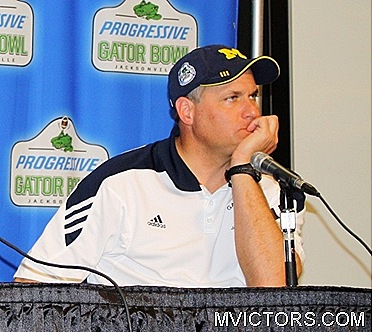 I have no gut feeling on what's going to happen—I've had people tell me before the bowl that Harbaugh was pretty much a done deal, and for while I've had word that discussions with Hoke were very serious.
Prior to the bowl the needle seemed to sway toward Harbaugh leaving Stanford and heading to Michigan.  Now, chatter seems to be the other way, with even a few speculating that he might stay in Palo Alto.  Several folks close to the program, like Sam Webb, say all the talk at this point in nonsense.
It's not about the money, at least when talking Michigan vs. the NFL as Brandon will pay what it takes.   I see Harbaugh as the type who's going to value the better situation for himself and the people in his life ahead of the bucks.    Guys who tweet out Gordon Lightfoot lyrics (and mean it) don't chase dollars:

If I'm Harbaugh I absolutely leave Stanford—you've got to move now and who knows what will happen in the next couple years.  And I've always understood when college coaches head to the pros.  No matter what happens at that level there always seems to be a high profile gig waiting for them back in college. 
I think Harbaugh's a different kind of cat, as many of these high achieving guys are, and nothing would surprise me at this point.