Welcome to the first edition of the 4th season(!) of This Week in Michigan Football History.
This time we step back to exactly 11 years this Saturday to the seesaw battle against the sweatervested Rick Neuheisel and his Washington Huskies in the 2002 season opener.   The wild events of the final couple minutes caused many a Michigan man to lose his hair, especially those enduring the brutal heat that day.  But in the end, coach Carr chose wisely and and the name Phil Brabbs is forever etched in Wolverine lore.
Clip:
TWIMFbH 2013 - Week 1 - Phil Brabbs play Savior
Play Now
|
Play in Popup
|
Download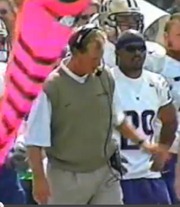 If you missed it, I chatted with Brabbs this week about the kick, kicking cancer's ass and more.
And P.S. I know old Ufe' used to say "..to the coast of lake Huron," but my boys Sap and Kryk we're listening in Canada, ok?  So Lake Erie it is.
Remember–You can catch all of the This Week in Michigan Football History clips here.   Listen to it live tomorrow on the KeyBank Countdown to kick-off on WTKA 1050AM or catch it live inside the Bud Light Victors Lounge.
Follow MVictors on Twitter
script:
To kickoff another year of This Week in Michigan football History we take a short, but glorious trip back to August 31, 2002 as Rick Neuheisel's 11th ranked Washington Huskies marched into Ann Arbor to take on the #13 Wolverines.
A capacity crowd filled the Big House on a sweltering hot day to witness this season opener, which for a while, looked like it would be a big Meechigan blowout.
On his first carry of the day, Chris Perry broke through an enormous hole and dashed 67 yards to paydirt.  Then, early in the 2nd quarter, John Navarre connected with Braylon Edwards for a 45 yard TD to put the Blue up 14-0.
But the Huskies wouldn't go quietly as U-Dubb quarterback Cody Pickett battled back…and before they knew it the 111,000 fans realized they had a game on their very sweaty hands.
After the teams swapped the lead three times in the third quarter, Chris Perry's 3rd touchdown put Michigan up 28-23 early in fourth.  But the Huskies quickly answered with an 83 yard drive to go up 29-28 with just eight minutes left.  With under 90 seconds to go Michigan missed a short field goal but Coach Carr saved his timeouts that gave the Wolverines one last chance.
It looks like that chance was squandered when Braylon appeared to dropped a 4th down pass — but the play was ruled a catch and a fumble…and receiver Tyrece Butler alertly pounced on the ball to preserve the drive.
On third down and 6 seconds to go, Navarre missed everyone on a pass over the middle, leaving U of M way out of field goal range.  But on that play the Huskies were penalized for having 12 men on the field.   Coach Neuheisel, who strangely chose to wear a tan sweatervest on the brutally humid day, would later say the blunder would haunt the Husky program for 1,000 years.
Suddenly the Wolverines were within field goal range..but who would Coach Carr send out to attempt the 44 yard shot with just 6 ticks left?
Walkon Phil Brabbs, who started the game but hadn't made a connected on a field goal since his high school days in 1998, had already missed 2 shorter kicks in this game.  Brabbs was benched and replaced by Troy Nienberg, who missed a chip shot late in the fourth.
Carr summoned Brabbs — and in doing so and offered the toe-headed junior an opportunity to punch a first class ticket to Meechingan football's Val Halla.
For those listening from Coast to Coast..from the coast of Lake Michigan to the coast of Lake Erie, it sounded like this:
[BRABBS]
As that ball sailed through the stadium roar shook the windows on Hoover Street, and the named Phil Brabbs was forever etched in University of Michigan lore and today sits alongside names like Bob Bergeron, Remy Hamilton, and Brendan Gibbons.