Last week for TWIMFbH we shot back to 1901, Fielding Yost's perfectly perfect first season in Ann Arbor.   For Saturday's edition we march a mere three years forward to 1904 when on that day in Michigan Football history we welcomed the spring lambs from the American Medical School (Chicago) to Ann Arbor.   Just three days later on the Saturday that followed Michigan faced West Virginia and unleashed a batch of whoopass not seen before or since:
TWIMFbH: Michigan 130, West Virginia 0 - yikes
Play Now
|
Play in Popup
|
Download
Yes, I said "Yostmen".   The beating put down that day was truly epic – Michigan scored 22 touchdowns in the 130 to 0 humiliation.   I read a portion of the hilarious report from The Daily New Dominion (Morgantown WV); here's more for you via the Michigan Alumnus archive: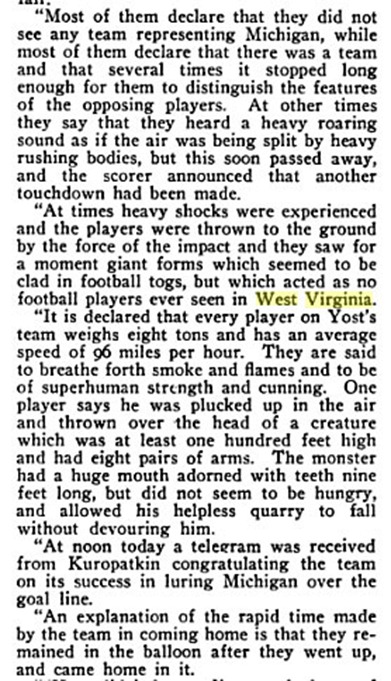 Bahahaha. When the jokes stopped they got an actual quote from one of the Mountaineer players who was clearly stunned by how Yost's machine operated.   Keep in mind this was 1904:
"The signals were given for the next play when the preceding one started.  Sometimes the play was off before we got lined up."
The Alumnus also had the note about Baird's unfortunate bicycle crash after the game and Yost's contract extension:

A funny stat – doing some rough math, with a comp package worth about $2.5M, Brady Hoke gets paid about $3,500 per offensive snap each season. :)
You can catch all of the This Week in Michigan Football History clips here….sponsored in 2013 by Ziebart of Yspilanti.    And don't forget to catch it live tomorrow on the KeyBank Countdown to kick-off on WTKA 1050AM or in the Bud Light Victors Lounge.
Related:  Speaking of tomorrow, don't forget to head down to SAE for the Mudbowl at around 10:30AM, and check out John U. Bacon's salute to this great tradition here.   And while it won't get as much action as Super Bowl XLIX, I have SAE as 4 1/2 favorites over Phi Psi.
Follow MVictors on Twitter