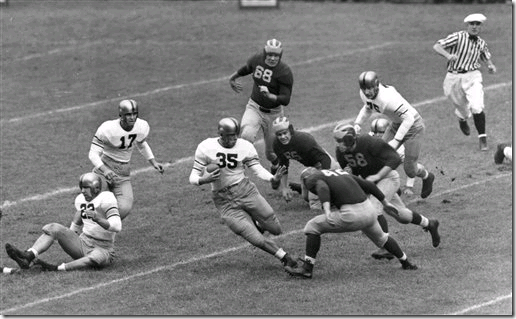 While 1945 isn't the greatest in Michigan football history, Fritz Crisler's crew finished the season #6 in the country and played one of the toughest schedules in the land.  More importantly, Crisler made history when he faced #1 Army at Yankee Stadium and their Heisman winning duo Glenn Davis and Doc Blanchard.
TWIMFbH gets into it here, and I even said "Fritzmen":
This Week in Michigan Football History - 1945 - The Banner - Week 11 2012
Play Now
|
Play in Popup
|
Download
You can catch all of the This Week in Michigan Football History clips here.   Listen to it live tomorrow on the KeyBank Countdown to kick-off on WTKA 1050AM or catch it live inside the Bud Light Victors Lounge.
Related:
1932 –"I thought Crisler was a Violin Player"
1934 – Harry Kipke and the Fall of 1934
1937 – Fritz's Secret Practice
1938 – Harmon and Old Number..Six?
1938 – Debut of Crisler's Winged Helmet
1944 – Michigan's Debut as a Nocturnal Eleven
1945 – Army Program from Yankee Stadium
1947 – 1948 Rose Bowl and the title debate
1948 – Crisler Describes the Spinner