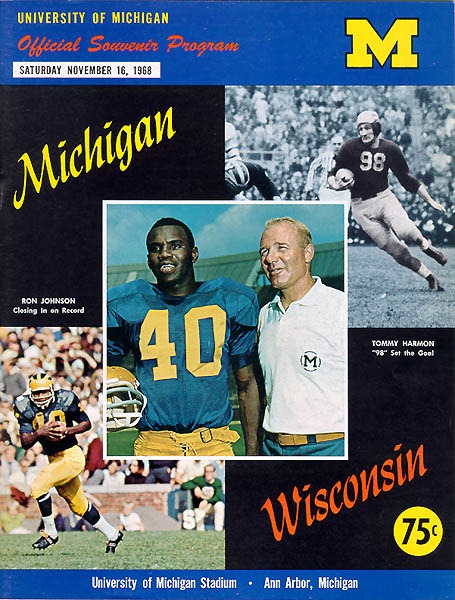 For this edition of This Week in Michigan Football history we head back four and a half decades to the home finale of the 1968 season, Bump Elliott's final year at the helm of the Wolverines.
On November 16, 1968 the Big House was barely half full. Those who didn't bother to show certainly regret it as Michigan, Big Ten and heck, NCAA history was made by Bump's badass back Mr. Ron Johnson.
Ron Johnson rolls up 347 - Wisconsin 1968
Play Now
|
Play in Popup
|
Download
347 yards on the ground. One man. Barely more than 3 quarters. Ponder that here in 2013. Today, Friday November 15, we are as far from that type of performance as we've been since that day 45 years ago.
Johnson, along with Elliott and Old 98, graced the program cover (above) for this game and this was fitting. Johnson's big day knocked out a couple of Harmon's records, and of course it was Bump's final home game. (P.S. I want one of those vintage '68 coaches shirts).
You can catch all of the This Week in Michigan Football History clips here….sponsored in 2013 by Ziebart of Yspilanti. And don't forget to catch it live Saturday on the KeyBank Countdown to kick-off on WTKA 1050AM starting at 11:30AM Saturday.
Follow MVictors on Twitter