This week we head back to 1927, a very special season in Michigan football history. On this day 84 seasons ago first year coach "Tad" Wieman led the 5-1 Wolverines into battle against the Midshipmen of Navy.
The significance of the season wasn't necessary about who played in the games but rather where. In 1927 Michigan Stadium was opened for business and on November 12 Navy would be the fourth team to visit the million dollar super-structure.
As always, you can listen to it out before the KeyBank Countdown to Kick-off on WTKA 1050AM tomorrow, or click play now:
Week 10 - 1927!
Play Now
|
Play in Popup
|
Download
_
You can hear all of the  This Week… clips here.
Related:
1926 – Any Stadium Bonds out there? – Bonds to fund Michigan Stadium
1927 – Big House Dedication – Ticket stubs, Stadium history
1927 – Yost's Bust -Head statue of F.H. Yost
1927 – Yost's Shiny New Packard – Beautiful car given to Yost by alums
1927 – Freshly Minted Big House – Postcard – Great pic of '27 Stadium
Bonus:
Construction photos taken by Harold Sherman: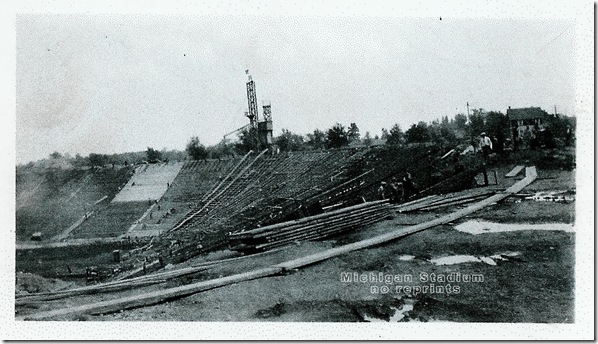 1927 Dedication day (Ohio State) pregame in color via ready Larry: