Admit it. Perhaps not to the extent of @mgojen, but you have a few fond memories of the RichRod era. You squealed like a little girl when this happened back in 2009:
It was indeed a fantastic moment in an otherwise rough stretch. All this happened six years ago this Saturday so why not? It's the subject of This Week in Michigan Football History:
Coach Weis - you are my little gentlemen. I'll take you to foggy Londontown!
Play Now
|
Play in Popup
|
Download
Don't forget to catch the whole KeyBank Countdown to Kickoff on WTKA 1050AM starting 4 hours before each game, and of course live in the Bud Light Victors Lounge when they lace them up in Ann Arbor. See you out there.
Script:
While Rich Rodriguez's tenure in Ann Arbor was widely a struggle, it certainly wasn't without its moments. One of those came on this day 6 years ago, and Charlie Weis and his #18 ranked Fighting Irish visited the Big House for what would prove to be another epic chapter of the great rivalry between our storied programs.
The Wolverines got the upper hand early, as over 110,000 fans saw the Blue jump to a 14-3 lead thanks to a Brandon Minor run and at the end of the first quarter and a blazing 94-yard kickoff return by Daryl Stonem.
But the second quartered was owned by the Irish as quarterback Jimmy Clausen tossed a pair of touchdown strikes to receivers Golden Tate and Michael Floyd. Weis waddled into the locker room up 20-17 and certainly felt pretty good.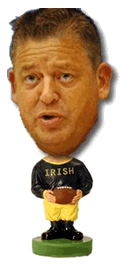 But there was fight left in the the Wolverines and they didn't back down. After freshman qb Tate Forcier found Kevin Koger for a short touchdown pass in the third, the stage was set for an epic final stanza.
Early in the fourth Forcier had Michigan in Irish territory when we he took the pigskin on a classic RichRod quarterback zone read, juked one defender out of his jock and went 31 years untouched into the South End Zone – saluting the fans on his way as he crossed the end zone.
But Notre Dame countered with a pair of touchdowns and with just a couple minutes to go the Wolverines trailed 34-31. From there Forcier when back to work and moved the Blue down the field, barely escaping disaster along the way and burning quickly through the remaining timeouts.
Finally – with just 11 ticks left – Tate took the snap, shuffled back and found Greg Mathews in the end zone right in front of the Irish band. Meeechigan prevailed 38-34 and another brilliant chapter of the rivalry was written.
For more, check out WTKA.com and MVictors.com.