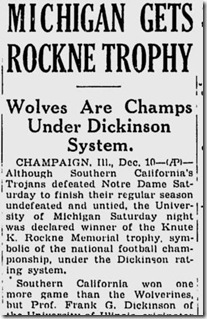 For the latest edition of TWIMFbH we step down to 1932 and check out when Harry Kipke's undefeated crew, led by All-American quarterback Harry Newman faced a very familiar name—Fritz Crisler and his Princeton Tigers.
We touch on that game played this Saturday back in 1932, but spend more time on the method to determine the national champion back then, namely, The Dickinson System.
As always, you can listen to it out before the KeyBank Countdown to Kick-off on WTKA 1050AM tomorrow, or click play now:
This Week in Michigan Football History - 1932, Kipke, Crisler and the Dickinson System
[ 3:10 ]
Play Now
|
Play in Popup
|
Download
You can hear all of the  This Week… clips here.
Follow MVictors on Twitter
More on the Dickinson System here: