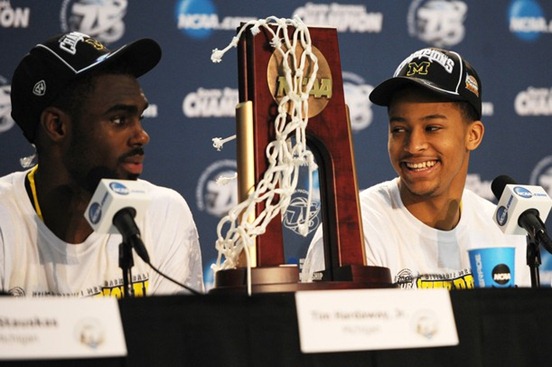 photo: Melanie Maxwell at AnnArbor.com
I was at the 1993 Final Four in New Orleans two decades ago as a U-M student and it was certainly a trip I'll never forget it. After we drove down (yep, from Ann Arbor to New Orleans) we went over to pick up our tickets.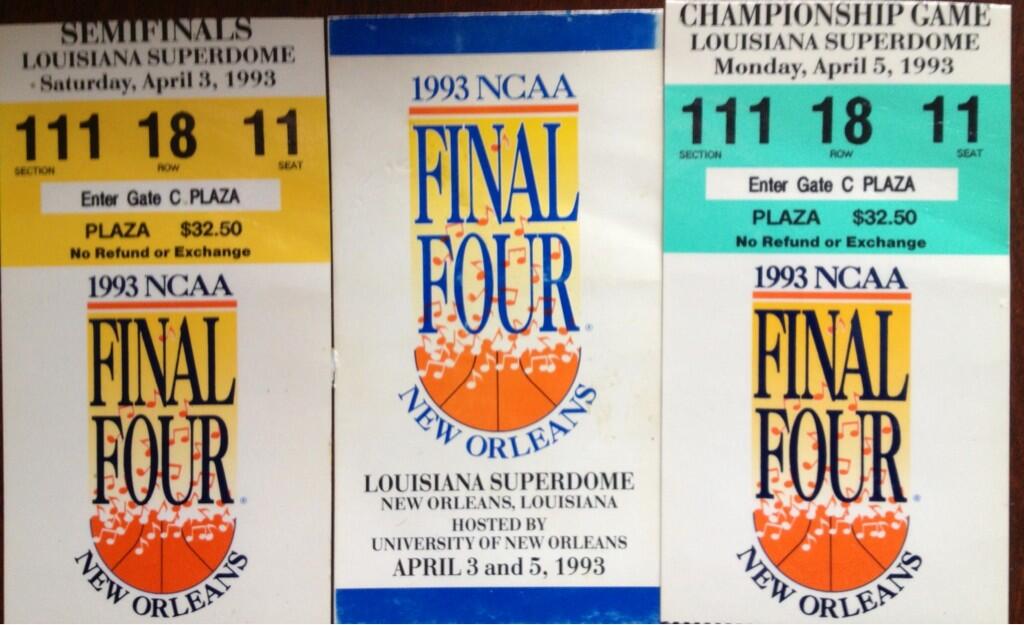 Just a moment after they were in my hands I was offered $3,500 my pair to the semis and finals from a broker holding a bound stack of bills the size of a roll of duct tape (my primo student seats were 18 rows behind the bench). I remember Mitch Albom happened to be there at that moment and saw us struggling with the dilemma. He asked us if we were staying out of trouble or something like that. (None of your business old man!) For a few different reasons I couldn't bite on that tasty offer. File under Cool Story Bro.
The sting of that brutal ending in '93 lingers for sure but the whole experience was amazing. The semifinal game against Kentucky was one of the best I've ever seen and the ensuing trip to Bourbon Street and the ensuing sunrise, etc.., were truly epic. And regarding that sting, I've seen enough football nailbiters—both bitter and sweet—to numb the pain of Webber's untimely timeout. I still feel like I need to head to Atlanta next week to truly put the 1993 final behind me, or at least that's what I'm telling the Mrs.
I might just go so I don't have to listen to those clowns on CBS misrepresent history and make up stories about recruiting. Or I might just go to find Tom Crean and tell him about my KickStarter campaign to build a special Rose Parade float in his honor.
I'm guessing most Michigan fans are thrilled but not shocked that this team made it through to the Final Four. And while anything can happen in the NCAA tournament, had Jordan Morgan's layup against IU gone in instead of barely rolling off the rim, Michigan would probably have been a 2 seed.
As far as the outlook, the most encouraging thing here is that they keep winning despite key players having rough games–Burke in the first couple games, Hardaway yesterday, Stauskas until yesterday. My concern? In those games down the B1G stretch and for a while against Kansas they looked like the young team that they are—out of synch, tossing the ball away, taking bad shots. They are still so young, but having McGary's physical presence underneath (& having the big fella clearly wary of foul trouble) along with Spike giving Burke the occasional blow is so huge.
You going? Final Four ticket packages here from SeatCrunch.
Follow MVictors on Twitter