I had a chance to talk to a few folks at Media Relations about Saturday's pregame activities. 
It's suggested you get into your seat at least 20-25 minutes prior to kick-off to be safe.  It won't be a drawn-out process as there's a TV schedule and of course a football game to be played. 
Here's what you can expect (bulleted by design, specific order not certain):
Video piece on the Stadium project
Video piece on Brock Mealer
Ribbon cutting (with Bill Martin, Dave Brandon, the Regents)
Brock Mealer will lead the team out, walk under the banner.  The team will follow.
Looks like two flyovers (sounds like MGoShoe has it right.) 
TBD – but possibly some type of pyrotechnics(!)?
There will also be set video pieces throughout the game
In and around the concourses there are a few new items (I'm not sure how much of this was in place for Fan Day):
The Michigan Stadium 'Art Deco' lettering is now on the east side of the stadium, and Bruce Madej encouraged folks to check that out along with the goings on around the rest of the concourses.  He wasn't sure if the other lettering set was going to put on the west side.
There is also new permanent artwork in the concourse areas "honoring teams and award winners."
Other stuff to get you pumped:
New banners in the parking lots featuring different players.  (P.S. Hope the sky looks like this on Saturday, it's almost cartoonishly nice out):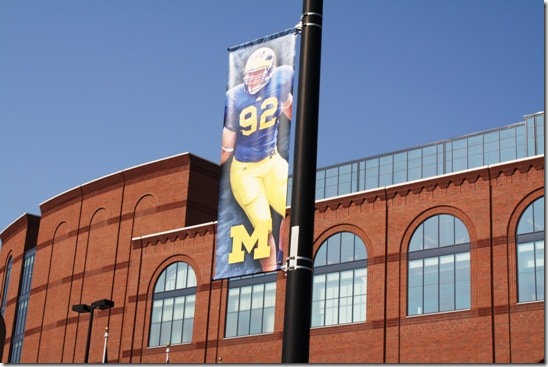 Freshly painted lines and parking spots in the lot.  Holder of this spot, you lucky bastard: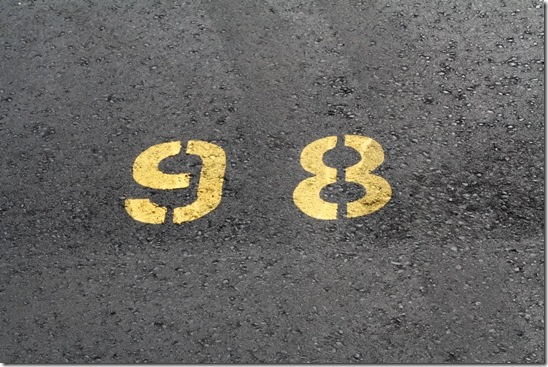 Ahh, nothing like rolling near campus and hearing the drumlines practicing and the band doing their thing: