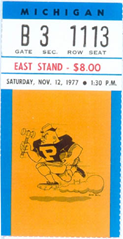 God bless your cotton pickin' maize and blue fedora-covered ears, old Ufe returns Saturday.
Continuing an awesome tradition, starting at noon Saturday WTKA 1050AM will air another game from the Bob Ufer radio archives, this time the 1977 battle against Purdue played in West Lafayette.
One of my spies tipped me off to the selection earlier this week and today The Michigan Insider's Ira Weintraub confirmed to me that "toe meets leather at noon."  Nice.
So after weeks of ignoring those important in your life, tune in while you are making good with your spouse, friends, family or even putting rake to leaf in the yard.  Heck, grab a beer, if that's your thing, and settle in.  
Maybe even Will Gholston will be tuning in from East Lansing :)
Related:
eBay Watch: Bo Rolls into Berlin (Navy 1976)
eBay Watch: Where Ufer Laid Woody Hayes Away
eBay Watch: WPAG Wall Clock (1940s)
WTKA to broadcast Ufer, 1979 Indiana game today
Follow MVictors on Twitter 
'77 Purdue stub via TicketMuseum.com