Glad to here that former Fab Fiver and current NBA analyst Jalen Rose will be honored later this month during the Illinois game. I'd love to make it out there on February 23 to see the ceremony, which is focusing on celebrating Rose's charity work through his Jalen Rose Foundation which has given over $1M to Detroit area children.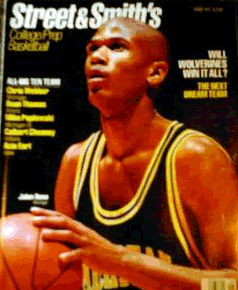 Major props to Jalen for all of this. He's true role model for the kids and maybe more importantly, for the Detroit area athletes. Although his astranged father played in the NBA Jalen grew up in humble surroundings in the city. My buddy Rosey tells a great story from a class he had at Michigan with Jalen. When the class was asked to give their TV show, Jalen offered his was "Good Times, because I lived it."
For the university to look past the Ed Martin crap to honor him is a good move. While Jalen was never directly included in the names of players to which Martin gave money I believe he's made it clear that folks like Martin helped him out from time to time when he was growing up.