The Helmet Hut provided Michigan and Notre Dame with the decals on each teams' helmets for the game this season.  Those watching at home may have noticed that the color of the stickers doesn't quite match the maize wings and stripes on the helmets: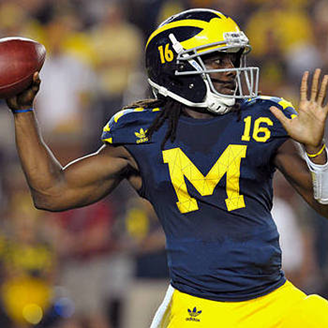 Call it the Dr. Sap Disclaimer: "never, ever, ever go by the color you see of pics online, in mags/programs or even in photos."
It's very apparent when you see them in person.  
I was able to get a few samples of the numbers from Helmet Hut (don't ask–they don't sell them).  I tried a few different ways to take a photo that demonstrates the different tone.  I found the best way to show it was like this, on an authentic Michigan helmet: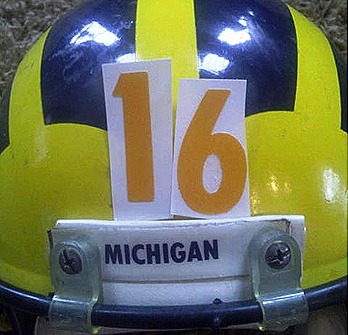 Believe it or not I actually struggled to demonstrate the difference before doing it this way. 
I'm not exactly sure why Michigan went with the alternate shade.  Per Helmet Hut, they have decals that match the maize and Michigan chose to go with the golder tone.  Perhaps it's more true to the Bump era color or maybe in a darker shade things blend better together.