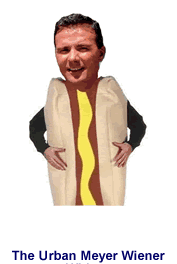 Coach Outraged over possible Rematch
SALINE, MICHIGAN Memo to Urban Meyer, take a cold shower. Check out this quote I snagged from ESPN.com this evening from the Florida coach:
Florida coach Urban Meyer said Sunday a rematch between Michigan and Ohio State would be cause for immediate change to the BCS. "If that does happen, all the [university] presidents need to get together immediately and put together a playoff system," he said. "I mean like now, January or whenever to get that done."
Part of me wishes they would institute a playoff anyway, but Coach Meyer, why the outrage? He went on to explain that it wouldn't be fair to Ohio State [that's life without a playoff, Coach], that Michigan had their shot and didn't even win their conference. He then went on to explain why the other close teams (Arkansas, Notre Dame, and USC) really didn't deserve a shot either. With two weeks left in the season it is clear this man has no class.
Here's to hoping that Lloyd Carr quietly defends his team's chance on a neutral-field game against the Buckeyes, but leaves it at that. I don't know if Meyer still has an out clause in his contract to coach at Michigan, but someone should tell Meyer that Michigan doesn't hire weiners.
The problem with all these arguments on who deserves to be #2, and they are ringing all over the TV and internet this morning, is that they are trying to apply logic to resolve a problem that can't be fixed. There is no good answer to this system. Some people rejoice in all the debate – I guess it is fun to talk about – but given what's at stake here to the players, coaches and fans it doesn't seem fair.
UPDATE: Looks like just about a year to the day when all this went down, Meyer and Carr will clash at the Capital One Bowl in 2008. Required for the game? Your Urban Meyer Wiener gear while they last: