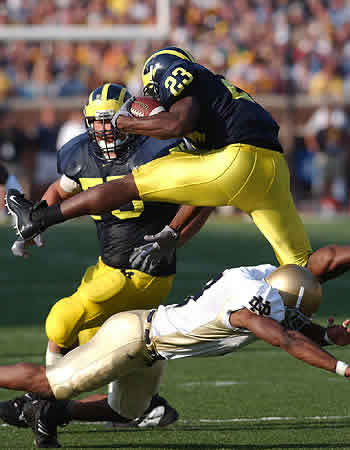 Notre Dame crushed in every facet of the game by inspired Wolverines
ANN ARBOR, MICHIGAN SEPTEMBER 14, 2003 Somewhere in the middle of the third quarter I heard a faint jingle. A group of young Notre Dame students sat adjacent to us in Section 22, and two of them were pathetically shaking their car keys in the air. The kids were trying to symbolically indicate that the next snap would be a "key play" for ND. This was a pitiful sight as the Fighting Irish faced yet another third down and long somewhere in their own side of the field.
The key jingling was not an accurate reflection of the significance of this down, but a desperate pipe dream that this play would somehow defy the brutal reality of the beating that their beloved Irish were taking. As was the case all day, the Wolverine defense immediately snuffed the play and the students' key-waving was replaced by head-shaking and disbelief. The 38-0 pounding continued from kickoff until the final seconds rolled off the clock.
Chris Perry talked before the season of leaving a legacy at Michigan. No matter how this season shakes out, this game will be remembered for decades to come. That's what this rivalry does: each game is a chapter in the storied history of this match up.
The shutout was the first by Michigan to Notre Dame since 1902. It is clear that Chris Perry didn't have time to think about his legacy during the game. He was much too busy hurdling would-be tacklers (see photo right), converting key third down and scoring four touchdowns.
Timmy Adams matches M performance
After the Michigan pounding of ND on the field, Timmy Adams along with his merry men, took to the streets of the Ann Arbor campus. The following truths should be noted for the record:
1. Beers were crushed when they were not being spilled.
2. Cigars were partially smoked then lost.
3. Chicken wings were stripped of their meat, most of them with a single bite.
4. A few people were offended, many were appalled, and a handful totally outraged.
Here's some video highlights from the game, compliments of YouTube: