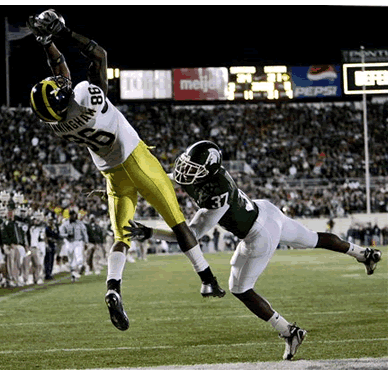 In a matter of a few moments the Wolverines turned around what was almost certainly a program-defining win for new Spartan coach Mark Dantonio. Michigan couldn't move the ball and was being run over by MSU backs Caulcrick & Ringer. With just a few minutes left and down 2 scores Henne and the offense picked away at the loose coverage and scored two touchdowns, the last an amazing catch by 86 that pulled Michigan ahead for good. It was stunning to watch. A few takes:
Most Painful? In some ways I feel this hurt MSU fans worse than the 2004 comeback, probably because a) of the emphasis Dantonio put on this game, b) this game was in East Lansing in front of a loud crowd, almost desperate for this win, and finally c) recent history of difficult games like the 2004 stunning loss in Ann Arbor, last year's Notre Dame collapse and the two tough overtime games this year. Speaking of 2004, didn't Manningham's catch look wildly familiar?:


Mountaineer Flair I'm starting to get a kick out of all these tools wearing Appalachian State gear. I saw a few items coming into the game and it was definitely on the minds of many Spartans. I don't care what people wear to a game, but to have made a conscious decision to go online and buy an App State shirt or hat and decide that it is clever enough to justify abandoning your home team's colors? That's just silly. And then of course just about every jack ass who bought Mountaineer gear has walked away from the Michigan game a beaten man (wearing a hat they'll never wear again). Good news for those still interested in ASU clothing, looks like they have plus sizes now: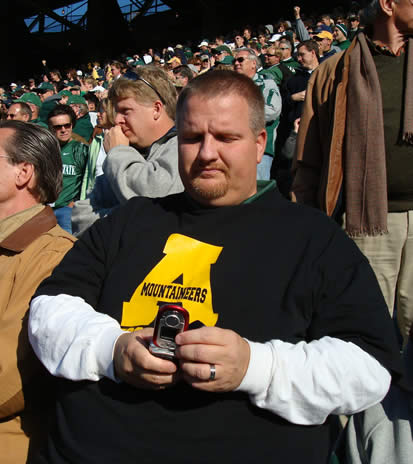 Grand Valley State And speaking of shocking upsets, I already spoke my piece on what Coach Tom Izzo's exhibition loss means. It didn't seem to bother the great Spartan coach as he enjoyed the game alongside 1976 national champion and MSU hoops legend Gregory Kelser, and current Pistons coach Flip Saunders: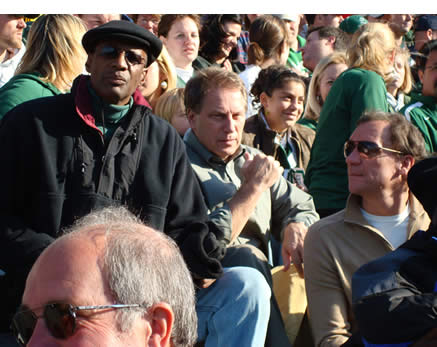 Disturbing Stretch M had a chance to really put the game out of reach in the first half but couldn't move the ball. MSU QB Hoyer was basically worthless in the first half and you figured the Spartans would need to get him going to have a chance. Instead of forcing Hoyer into an uncomfortable position, Dantonio did the ballsy thing: he decided to stuff the ball right up the gut and it was scary how well it worked. Up until the final 6 minutes the Spartans dominated and were dealing Michigan a Schembechler-like ass whooping. It was painful to watch. I give Dantonio a lot of credit for not trying to get cute and instead telling his players to out muscle the Wolverines. It nearly worked. As for criticism of the new coach, most Spartan fans post-game were wondering why the Green didn't put more pressure on Henne in those final 2 drives.
Rest for November 17th? So, what do you do next week? If Hart and Henne aren't 100% do you mail it in next week? I don't think so. When this topic came up this morning on 1050am's 'Off the Field', former M great Jamie Morris emphatically said that there's no chance Michigan will rest guys that could play against the Badgers. He's probably right but basically the Wisconsin game doesn't mean much. The worst Michigan could end up in the Big Ten at this point is 2nd, and M still goes to the Rose Bowl if they lose in Madison and defeat the Buckeyes in the big one.