Check out this shot of Fielding Yost's 1897 Ohio Wesleyan championship squad currently up for bid on Lelands.com: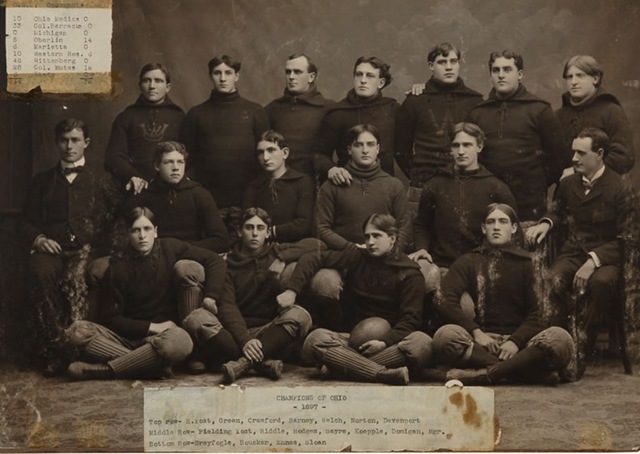 Are some of the players wearing capes?  Don't tell Adidas!
Ohio Wesleyan was Yost's first head coaching job and he led the Battling Bishops to a 7-1-1 record.   I don't believe they were part of a conference (they would be part of the formation of the Ohio Atlantic Conference in 1902) so as Yost tended to do, he simply declared his fine team "Champions of Ohio".  Good on you, FHY.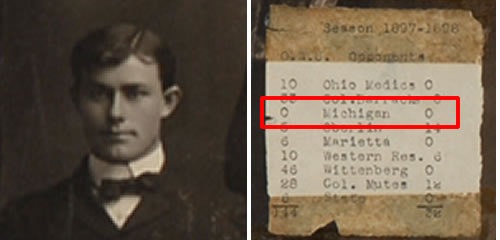 You'll note that Yost and the Bishops locked horns with your beloved Wolverines that season, somehow mustering a scoreless tie.  But it gets better.  The Wesleyan team only managed to travel with ten players and Yost was permitted to suit up at left tackle in the game.  Stick that in your pocket and impress your friends/make women swoon/etc.
Thanks to his ties to the school, it was no accident that Yost selected Wesleyan to play in the first game at Michigan Stadium in 1927.
P.S.  I wish I had this 1897 shot of Yost before I created my Yost photo montage:
Related:
1925 – Yost Wants a Real Wolverine
1925 – Professor Yost
1926 – The Wolverine Pack & 1926
1926 – Yost's Signature Helmet
1926 – Any Stadium Bonds out there?
1927 – Big House Dedication
1927 – Yost's Bust
1927 – Yost's Shiny New Packard