"My team is bad, your team is probably better unless you have a giant I in your logo.  Maybe even then, too."
Power Index Week 5, this week sponsored by Fraser's Pub: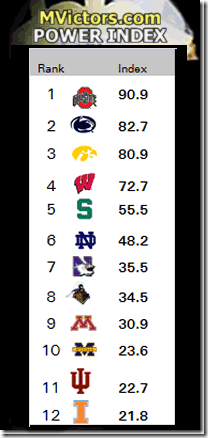 Biggie Munn, the Sparty:  State becomes bowl eligible with the W in West Lafayette.   MSU had no business pulling out a victory as Joey Elliot absolutely torched the Spartan D all day long.  The troubling thing with this team is that the defense seems to be regressing.  Keshawn Martin had another huge day and is going to be a special player for Sparty for the next couple of years.  Saturday's win was big for the program as it will now go bowling for the third straight year under Dantonio.  A victory over PSU would help salvage a season that has been a disappointment for most of the Spartan faithful.
Schlimmy, the gleeful Buckeye:  If anyone would have told me a month ago that Ohio State would have the Rose Bowl bid wrapped up before the Michigan game I would have told them they're nuts (no pun intended).
Where has the defense gone in the Big Ten, of the 5 conference games on Saturday the average point total in those game was 57.  Well onto the "Big Game" unfortunately for the second year in a row there is not much riding on the game, obviously Michigan's bowl hopes are on the line but I'm sure Tressel will have the boys fired up to try to keep the streak going.
Lew, who Bruce thinks is from Ohio:  I'm not sure whether Michigan's offense or defense is more frustrating.  The inability (once again) to punch it in in short yardage situations is painful, as are 19 second half points over the last 4 games.  Defensively, the attempted arm tackles and guys not shedding blockers….  I'd like to think things will improve over the next couple years, but the lack of any sort of improvement over the last few games doesn't instill much confidence. 
Too bad Ricky Stanzi couldn't play — had he not been injured last week against Northwestern, the Hawkeyes easily could have ended up in the BSC title game.  But an Ohio State/Oregon Rose Bowl should be a heck of a ball game if it pans out that way.
Lastly, with a loss to Penn State, Sparty would finish 6-6.  Yes, I know Michigan fans would be relieved (if not thrilled) to end up with that record, but that would at least give us hope that the December practices might get the team over the hump next season.  Do Spartan fans still believe there's significant upside with Dantonio?
Gilliam, of the Badgers:  It used to be when the Badgers played Michigan there would always be a big Michigan receiver that caught an amazing touchdown over the top of a shorter Wisconsin cornerback's head. There would always be a diving Michigan receiver reaching out for the pylon with the ball as he flew over the goal line. But this isn't Michigan anymore; this is AOL merging with Time Warner. Even with 22 Brandon Grahams [Ed. 55 at quarterback?  One ton of muscle…] on the field, you get the feeling that Michigan still wouldn't execute quite right.  Wisconsin, on the other hand, has to feel pretty good about being 8-2. After bad losses to Ohio State and Iowa, the Badgers have found more cohesion on defense, and Scott Tolzien is looking like he did in the first few games of the season. Bucky's going bowling, and feels no remorse about hanging 45 on a Michigan team that ruined their season last year in Ann Arbor.