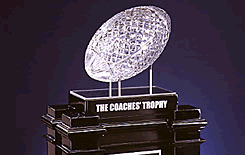 Victors Club Send Priority Point Totals and Why you Won't Get Them
SALINE, MICHIGAN Remember the scramble for Rose Bowl tickets back in 1997? I was a low on the pole Victors Club and alumni club member and a season tickets holder. I got shut out cold. Fortunately I was attending Indiana University at the time and was able to score a couple of IU's allotment from my Economics professor. Dr. Jaffe commended me for my persistence on getting the tickets, but wished I had exhibited such focus in his classroom. Memo to Prof Jaffe: It's about passion man…and the law of diminishing marginal returns doesn't float the H.M.S Victors.
This time around the Marty Bodnar and the ticket office took some of the randomness out of the process. It's about money now, and when I'm taking money I'm talking Victors Club Priority Points program. This program "will be used to prioritize and allocate scarce benefits…" Did you donate? Where do you rank? How many tickets will they offer up to the list? We'll see, but in an effort to stop the bombardment of emails/calls to the Victors Club, they sent over a listing of the current rankings and each Victors Club member's point totals. Here's a snapshot for you:
Top 100 (in points) 1,770 total points
Top 1000 279 points
Top 5000 44 points
Top 10000 23 points
My guess? The top 5,000 will get the opportunity to buy up to 4 tickets. Maybe it'll be the top 10,000 at 2 tickets each. Who knows. All of this assumes that Michigan gets it done on Saturday or at least gets the nod in a rematch.
Do you think this is right? I don't have an issue with this process, it is good as any. If you really want to support this program you'll donate, or at least be forced to donate to keep your cherry Big House seats :). What do you think?