I've been keeping an eye on the letters section of the Ann Arbor News to see the stream of Rodriguez hate letters, especially after the Toledo loss. Here's a beauty: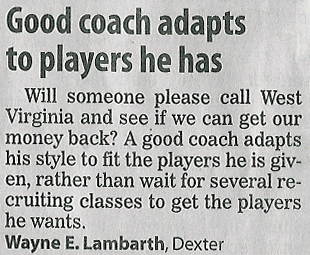 I hear this take a lot. Rodriguez should alter his style to get the most out of the players he has, and therefore we wouldn't be in this mess. Translation: run Lloyd Carr's offense.
Look, Michigan hired Rodriguez based on his track record. Few deny that Rodriguez can coach; he's proved this everywhere. But he proved it doing things a certain way, that is, running his offense. There's a reason why coaches would travel to Morgantown to see him and learn from him. I know they weren't there for the fine dining.
There is clearly a learning curve that needs to be traversed to pick up this system. For Rodriguez (or Beilein while were at it) to abandon his scheme that now that he's hit the big time would be asinine. Getting players is part of it but it's not like Michigan has sub-Toledo talent. It has a lot to do with players being comfortable in their role on the field and having the confidence to fly to their spot once the ball is snapped.