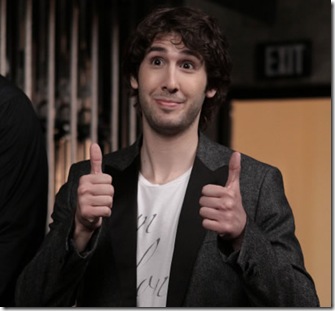 You heard?  On an recent email thread in my inbox someone mentioned they heard Jim Rome talking about how Rodriguez played Bette Midler at the banquet.
I was there and even live blogged for the second year in a row if you missed it.  (It was going well until the Dee Hart to Bama rumors emerged and unfolded during the middle of the bust and the live chat went sideways for a spell.  Recruitniks! <shakes fist>)
So regarding Rodriguez's speech and the Josh Groban moment.  I was seated in the back of the room.  Rich Rod starting his final words around 9pm and lost in all the Grobanathon is that Rodriguez delivered an excellent speech.  It was passionate, heartfelt and he seemed truly humbled in the moment.   About ten minutes in he dropped two of his big lines, "Our time is coming, and it's coming in a big way", and "We'll let people jump on the bandwagon. They may not get a front seat."  You forget that Rodriguez is a skilled public speaker in these type of forums.
Then came the Groban stuff, about 10 minutes in.  When RR first mentioned the pop-opera crooner I winced.  When he recited the lyrics I chuckled & when they started blasting the tune I cringed.  And it was LOUD.  I think it would have been a little easier to consume if they had a highlight package or video piece along with the music but they didn't – they just panned the cameras around the room.  I'm not sure who started the hand holding, etc., but it was in the vicinity of Beckmann, Rich Rod and Rita Rod, who were seated together.   I didn't watch the whole scene because I was too busy typing snarky comments and tweets – (keep in mind I was seated in Snarkville).  Admittedly if Michigan were 12-0 or 11-1 right now I would have stood on the table and fired up a lighter, swayed back and forth like a champ and ran out and grabbed some wrap-around scarves.
OK, other than those four minutes here's what else happened:
Brandon and the Bowl. Dave Brandon only spoke for a short spell and to me, didn't bring the same energy level you typically witness from Super Dave.  He was seated on the opposite side of the podium to Rodriguez if you are keeping score.  After MC Frank Beckmann (did a great job) mentioned the possibility Insight Bowl, Brandon said he wasn't so sure we were headed west.  Take that for what it's worth and usually people in those positions don't throw out comments haphazardly so we'll see.  P.S. MSC couldn't make it.
Seniors. I was graduated from LSA in the early 90s and back then if you asked me to give a speech in front of all those people as a 21 year-old I'm not sure what would happen.  These guys looked great, sounded great and a few delivered their words like real pros.  Be proud of these guys.
"Irregardless of what you say, it's in the past." The funniest cat was Perry Dorrestein for sure and reading his body language and tone you can be sure he's a real cut up.   Rodriguez mentioned in his intro that he heard that Dorrestein did a great Rich Rodriguez impression.   After he stepped up to the podium, the senior informed everyone that we wouldn't be hearing that impression tonight because he had another month under Rodriguez and didn't want to get killed.
Neither Tate nor related to Ricky. Kevin Leach gave an excellent speech – check it out if you have the means.   He looks a lot like Tate Forcier and he thanked everyone who asked has asked for his autograph thinking he was Tate, but got his signature anyway after getting the bad news.
More from the seniors:
James Rogers, who looked sharp in his black suit and white vest, gave a shout out to "all the true Michigan fans."
Several of the guys thanked their girlfriends prompting several puke face/gag me gestures from me.  A couple of the guys read their speech from their phones/devices.
Zac Ciullo is already accepted into U-M Law school. Rich Rod said (paraphrasing), he probably won't need him because he's been lawyer'd out the past 3 years.  After Ciullo's excellent speech, RR said something like, "maybe I could use you!".
Obi Ezeh thanked the seniors "who stayed."
Jon Bills, who was in that brutal car accident, said Michigan players he hadn't even met yet visited him in the hospital. Said Rich Rod visited him just about every day.  (File under: stuff you don't hear about but RR is actually a good guy).
Sr. Doug Rogan mentioned an funny story about a hit during practice, said it occurred within the NCAA limits of practice time drawing many a chuckle.
Martell Webb had a great moment, yelling over to Denard, reminding him they have one game left (as in – don't forget about me/throw me the ball)! Crowd loved it.
Jonas Mouton was choked up big time and had a touching moment.  He stepped up there, paused and said he's "Not really ready to say goodbye yet".
Kicker Scott Schrimscher killed it too.   He reminded everyone he's 2 for 2 on extra points and thanked Barwis for "this incredibly good looking physique" and ended with "Those Who Stay will be champions"  – awesome speech.
Dominique Ware thanked Barwis – said he put him thru things no sane person should go thru (paraphrase) and like many guys, thanked Big Jon Falk for his socks and the gear (busting Big Jon's chops a bit).  Said he's coming back to get them after he graduates.
All in all a great event.  Oh, and yes they honored the 1985 team and I sat right next to one of their tables.  I would have done a little more on the team – invest 10 minutes with a highlight package, maybe a few words from the captains, etc., but oh well.
More nuggets inside live blog replay.