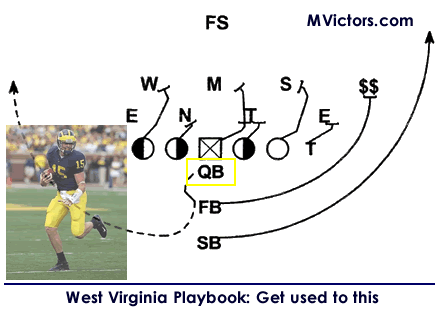 MGoBlog's Unverified Voracity today published some great stuff, including a link to the 2005 West Virginia playbook. A lot of the plays involved a wiggle, and waggle and the quarterback taking it to the house. It's TOO EASY! Run, Ryan Run.
Elsewhere: I added a few Big Ten Blog links on the right toolbar. If you've got some other suggestions let me know. All these seem to be updated fairly frequently. Funny, after reviewing these I learned quickly that other Big Ten blogs like to talk about Michigan about as much as I do. But sometimes they're just not very nice about it. A few examples:
The Enlightened Spartan: Hates Michigan and Mitch Albom. Memo to ES: you can have Albom. Take him, please.

Illini Talk: Found the "M"ORON Michigan license plate and got a chuckle.

Buckeye Commentary: Oh the Irony. Columbus ripping on Michigan's new Hillybilly West Virginianess

Boiled Sports: The Purdue blog tells WVU fans to chill out and gives them an unbiased reality check.

Black Shoe Diaries: The Penn State site has an interesting poll: Is Michigan hiring Rodriguez good, bad or TBD for Penn State. Ummm…not sure how to take that, right? I mean things aren't exactly good for Penn State at least with respect to Michigan as is, so for those saying it is a good thing for Penn State, is that because Carr is leaving or because Rodriguez is coming?