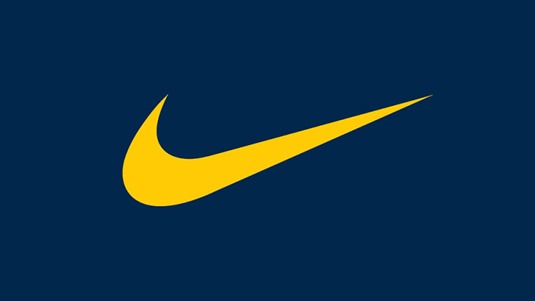 Pulled from the Uniform Timeline, a few tidbits from our history with the Oregonian goddess of victory:
1976:  Best we can tell (and by we, I mean me & the illustrious Dr. Sap), Nikes first appear on the feet of a Wolverine, here shown on #41, the great Rob Lytle (and yes that's Ricky Leach killing it in the Pumas):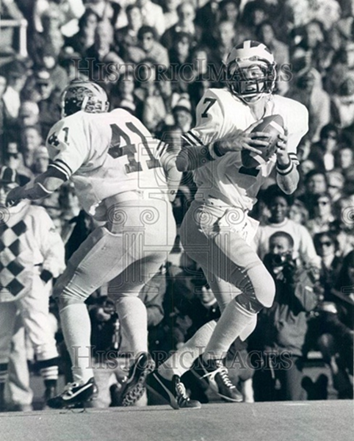 1983: Nike becomes the exclusive shoe provider for Bo's men.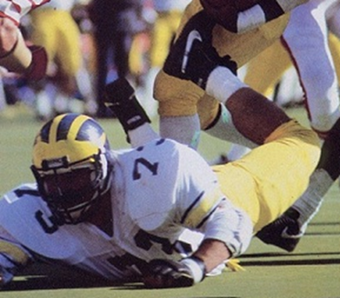 March 1994:  Michigan signs 6-year contract with Nike for, "apparel and shoes, totaling more than 23,000 items over six years for football, basketball, hockey, baseball, softball, swimming, wrestling, golf, tennis, field hockey, cross-country, track and field, gymnastics, volleyball, soccer and cheerleading squads."
January 1, 1998:  Michigan wins Rose Bowl and the national championship. (OK, that wasn't Nike's doing – but clearly wearing the swoosh didn't hurt).
July 2007:  U-M signs contract with adidas for footwear and apparel for all 25 U-M athletic teams. The new agreement begins with the 2008-09 academic year and extends through the 2016-17 season.
September 8, 2007:  Nike mogul Phil Knight buys rounds of drinks all over Ann Arbor before visiting the Big House to watch his Ducks destroy your beloved Wolverines – one week after The Horror: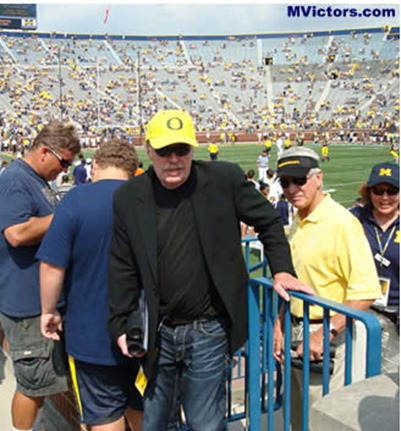 January 1, 2008:  Final Nike jersey appears after adidas deal signed.   Jerseys include Capital One Bowl patch on left chest on white jersey.  Lloyd Carr beats this guy and gives him a rub on the belly to make him feel better: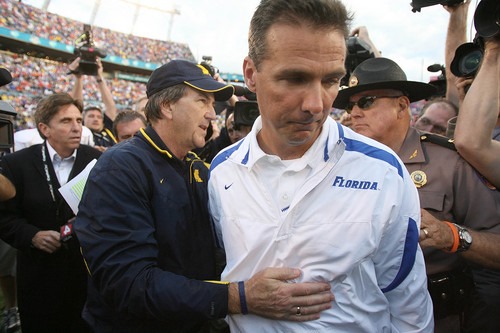 April 13, 2013:  During spring practice quarterbacks wear orange Nike-manufactured Oregon State jerseys with black numbers with Adidas logo sewn on (left):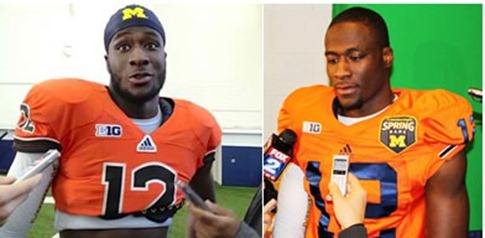 Today: U-M reaches agreement in principle with NIKE to become the Wolverines' official athletic footwear, apparel and equipment provider to 2027, with an option to extend the deal to 2031.
Follow MVictors on Twitter