A great segment of Recruiting Round-up on WTKA this morning. Host Sam Webb broke down the William 'Big Will' Campbell recruitment process and revealed some of the inside pool on why Webb and other recruiting gurus weren't buying Campbell's declaration that Michigan was off his list last week.
Here's the first five or so minutes where Webb gives you all the goodies and explains:
– Campbell's initial commitment
– The reason for Big Will's decommitment
– The rationale behind declaring Michigan was off his list earlier this week
– On his mother's assurance that Michigan was at the top of the list
– And, Big Will's message to Rich Rod and the text he blasted out to his Michigan peeps before the selection:
Standard Podcast
Play Now
|
Play in Popup
|
Download
Summary:
– On why he decommitted: There was a coaching change of course, but Webb advises that it was primarily the desire to visit other schools (LSU, for instance, wouldn't allow a visit if he was committed to Michigan) and his desire to declare on national TV (and pick the hat, etc.)
– Why Campbell said Michigan was off his list last week:: "to inject a little bit a intrigue" into the selection.
– On why Webb was still confident of Will going to Michigan after those statements: Several things:
– Campbell told the Army people to keep a Michigan hat on the table right after making that comment.
– Big Will told his boys and family he was just playing with the media (not sure if he's sorry about Sean at MSC's wall)
– Last week he called Rodriguez and told him to make sure he watches the Army game.
– Finally, Campbell's mom told Webb last week that Michigan was top of the list but Sam didn't get clearance from Big Will to release that statement.
Webb also got a text Saturday morning that included many of Will's peeps, saying he wanted to show folks how we do things in the D– BAM: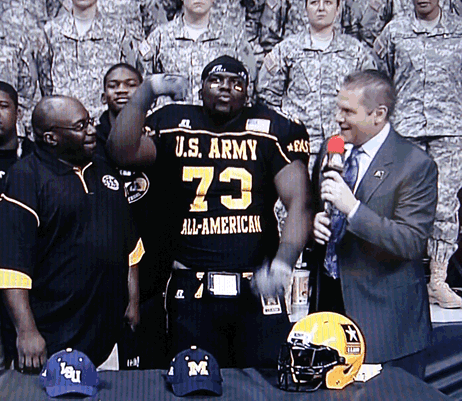 Here's the
full audio
of the segment via the WTKA podcasts.