Update: All the pre-, during- and postgame photos are here.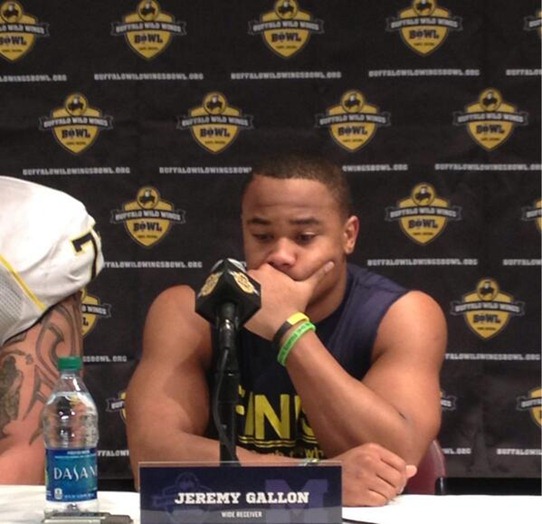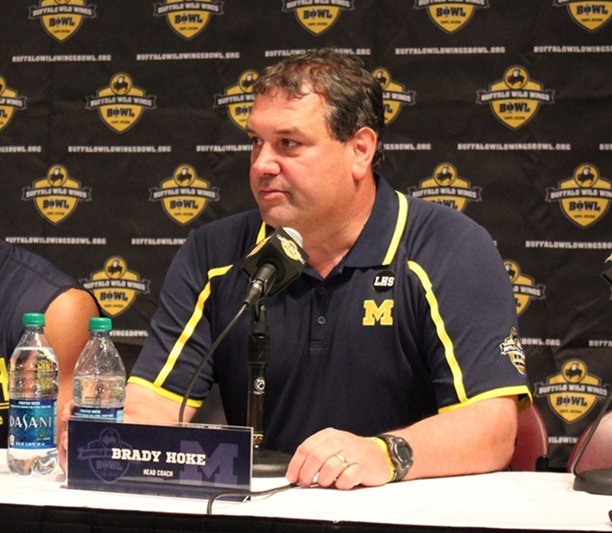 THE MODERATOR: We'll have Coach Hoke make an opening comment.
COACH HOKE: You know, we're proud of the seniors who played their last game of football for the University of Michigan. There's a lot of those guys, like the ones sitting next to me, who taught a lot of lessons to a group of young kids, and we'll always remember that.
But we didn't play well enough today in a lot of areas. Third down conversions on both sides of the ball, in the red zone we didn't play well enough. When you don't do that and your offense can't get on the field, you give up a couple big plays in there defensively.
Also I don't think we did a great job in some of the kickoff coverage. They hurt us with field position. This was a field position game.
THE MODERATOR: Questions, please.
Q. Can you talk about the trouble that you had staying with Lockett, in the first half especially.
COACH HOKE: I think, number one, you got to give him credit. I think he's a good football player.
Secondly, you know, I think Waters did a nice job of putting the ball in the right place.
Yeah, you got to do a better job executing coverage?wise.
Q. Your thoughts on Shane's play today.
COACH HOKE: I thought he did a good job. I think coming into this situation, I think he prepared well. I said that all week. The way he prepared, I thought he didn't look nervous, shaky, all those things. So I was real pleased with that.
Q. You didn't have a lot of success running the ball. How big a factor was that?
COACH HOKE: It's always a factor. Then you get down, you know, 21?6, so you got to throw it a little more. That hurt also.
I think running the football has got to be a premium for us, and we didn't do that well enough. Then once we got down 21?6, we had to throw it a little more.
Q. Did you know going in that you would throw as much as you did, or just because you fell behind a little bit?
COACH HOKE: I think some of the screens, some of those things, number one, to get Shane started, give him some confidence. But at the same time, no, I don't think we planned on throwing as much as we ended up. I don't know how many times he ended up throwing it, but more than we'd like.
Q. Could you sum up, obviously you're disappointed for the seniors, but where this team is in terms of moving into the off?season, moving ahead?
COACH HOKE: I think this team is going to be very hungry. I think this class of seniors continued to build on a foundation in a lot of different ways that are very positive.
You know, the two guys here in front of you, how they competed every down. I think they're shining examples of that.
They're dissatisfied, so I know the other guys are.
Q. Taylor, can you talk a little bit about your thoughts after your final game.
TAYLOR LEWAN: Disappointing. Definitely a disappointing game. But, you know, given the situation, I think this team played just like they did all season. I know our record didn't show how hard we worked, in the off?season, how hard we fought. These seniors did a good job of laying a foundation for this team.
Team 135, if they put their mind to it, work as hard as they can, they can be extremely successful.
Jeremy Gallon had the receiving yards. Shane starting for the first time in a bowl game, that's huge. You would have thought he was doing it five years now.
Q. Shane, did they throw anything at you defensively maybe that you weren't expecting?
SHANE MORRIS: No. We prepared for everything. Gave us what we thought they were going to do.
Q. Jeremy, obviously a disappointing way team?wise for you to go out. I know the record will mean something to you at some point. It's got to be hard to end on this note.
JEREMY GALLON: Yeah, disappointing game. I mean, the record right now don't mean anything without a win, especially with these guys.
With that being said, I feel like Shane held his own. You know, we didn't play the way we was supposed to or the way we prepared all this week.
Yeah, right now I don't care about the record.
Q. Shane, obviously moved the ball really well in the first half. Talk about those situations in the red zone, not being able to get it into the end zone.
SHANE MORRIS: Obviously we have to convert on third downs. We were in the red zone twice early, in which we didn't score a touchdown, which hurts us offensively.
Yeah, that's about it.
Q. Taylor, obviously you were forced into a situation where you were throwing the ball a lot. Disappointed that you didn't get the running game going a little bit more than you did?
TAYLOR LEWAN: Yeah, it was tough. I think we had the least amount of running plays in any game I think this year, which Coach Borges is a good coach, knows what he's doing. I think it shows how much trust and confidence and shows what kind of player Shane is to put him in a position to throw it that much.
Obviously, when you get down, you have to start throwing the ball more. Given up so many sacks this year, putting the pressure on Shane, I think he did a great job.
Q. Shane, you looked very confident and poised throughout that game. I'm curious how much from your mental standpoint did getting out there and actually playing, what did that do for you? What do you think as you look forward to next year, what this game might mean for you?
SHANE MORRIS: Being able to play, I mean, in any game, especially for the University of Michigan, which I am, it's huge for me to be able to get that experience moving on to next year for team 135. Who knows who is going to be the quarterback for us. Devin is coming back.
We're just going to work hard for team 135 and make strides with that.
Q. Taylor, just on the final interception there. You said you were going to lay it all out on the line, leave everything on the field. Looks like that hit you late in the end, did you just kind of muster up everything you had and gave it a lick there?
TAYLOR LEWAN: No. It's what you're supposed to do. Interception, you go to the ball. Just made the tackle. It's unfortunate I had to be put in that situation. When it bounces off a receiver, ends up in the defender's hands, you have to make sure they don't get a touchdown off of it.
THE MODERATOR: Thank you.