*in net punting
Yes, nearly solely due to remarkable season of punter Zoltan Mesko, Michigan remains atop the nation in net punting this week. You may have noticed that Mesko was listed as a semi-finalist for the Ray Guy Award last week and I think this is a bigger factor than his punting average, although he's still solid in that category at #7 in the land with an average of just over 45 yards/punt.
Michigan should be pretty good at covering punts, because they've covered almost more than anyone in the country. In 2008, Michigan's 61 punts are more than just 3 other teams (Auburn, Washington State and Wyoming, all with 63) and we've punted for more yards (2705) than easily anyone else. Factoid: It's about 2705 yards from the Big House to the Ann Arbor-Saline Road exit on I-94.
So what does this mean?
* We've got a great punter
* We've done a decent job covering these great punts
* As mentioned, we punt a lot therefore we're getting good at it.
* A lot of our drives stop deep in our own side of the field, therefore we don't have a lot of punts that serve to pin the opponent back. Mesko is getting his full leg into most punts.
* While we're tops in covering punts we're still #96 in the country in scoring defense. Therefore, despite our efforts on the punt team and the added length of field required for the other team to score, they still do with ease.
As far as the other categories like offense, defense and what have you, here's where the Maize and Blue stack up (look away!):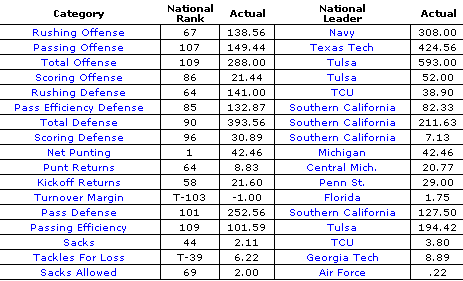 And before closing, props to Brandon Graham who's #3 in the nation in tackles for loss, just .07 behind leader Alex Carrington of Arkansas State.