Check this out from the 1932 Youngstown Vindicator newspaper.  It's a feature called 'Football for the Fan' by coach Howard H. Jones.   Coach Jones was a legendary coach at USC with many other stints including Ohio State in 1910 (3-3 tie in Columbus vs. Yost if you need it—the Buckeye fans went wild.)
In the FFTF feature, Jones lays out an in-game scenario and asks readers, 'What Would You Do?':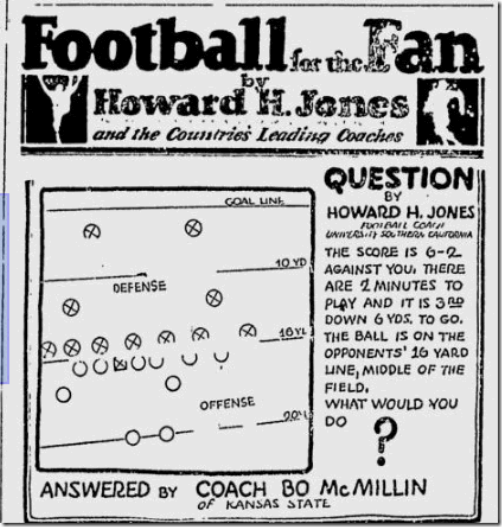 It appears as Jones had different coaches suggest a play to "answer" the question, and this one was addressed by then-Kansas State coach Bo McMillin. And don't knock McMillin—after leaving Kansas he went onto Indiana where he bested Crisler in Ann Arbor & led the Hoosiers to the 1945 conference title!  A football title in Bloomington is a one way ticket to the college football HOF, yes sir.
After that McMillin went on to coach the Lions and the Eagles before dying prematurely of stomach cancer.
Update:  Here's McMillin's answer: