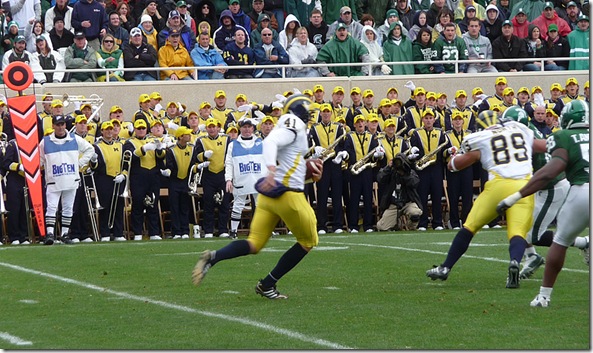 photo credit : my dad 
Me back on 9/20:
Punt option:  This prompted a rare in-game post, but I'd love to see Rodriguez consider dropping in the punt roll-out option with Mesko once again especially on those fourth and short situations.  I hated that thing at first but with Zoltan back there handling it I'm completely comfortable after watching how it was employed last season.
Eh.
Maybe not so great of an idea with when you're in the shadow of the goalposts.  I haven't seen all the explanation here but I assume the coaches called the option (really bad idea – and yes, they did) and Mesko made the read to run it (bad idea).
Here's what a few folks in the crowd thought of it:
I love the band member on the left.  Mesko hasn't even taken three steps and he's looking down the sideline to give Rodriguez the stink eye.
This dude is the most relaxed man I've ever seen.  Baby blue jacket, turtleneck, pinkie ring, legs-crossed.   He's just taking in a great college football game on a wonderful autumn day in East Lansing.  No emotional investment whatsoever—I envy this man: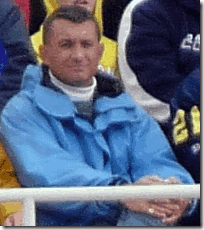 Related:
Rodriguez on the Rugby punt (audio from Monday)