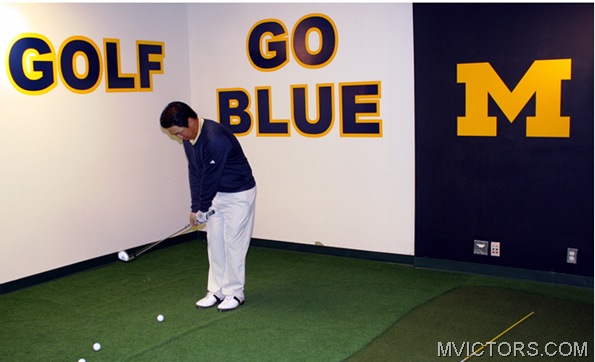 Michigan senior Lion Kim, chipping in a practice room in the basement of the U-M Clubhouse in March
A hallmark of The Masters golf tournament is the green jacket presented to the champion early Sunday evening. But long before the champion is determined, Masters patrons and hopefully the TV audience will be treated to a competitor dressed head-to-toe in maize and blue.  (And no, I don't mean like @bacari34 next season).
Michigan senior Lion Kim will be one of six amateurs in tournament and we know from my February interview he'll be representing U-M big time.
Golf Digest has a cool regular feature called 'What's in My Bag' where they run down what a pro carries in his golf bag each week.  During a recent visit in March in the basement of the U-M Clubhouse, Lion was kind enough to spend a few minutes running through the equipment he's bringing to Augusta in April: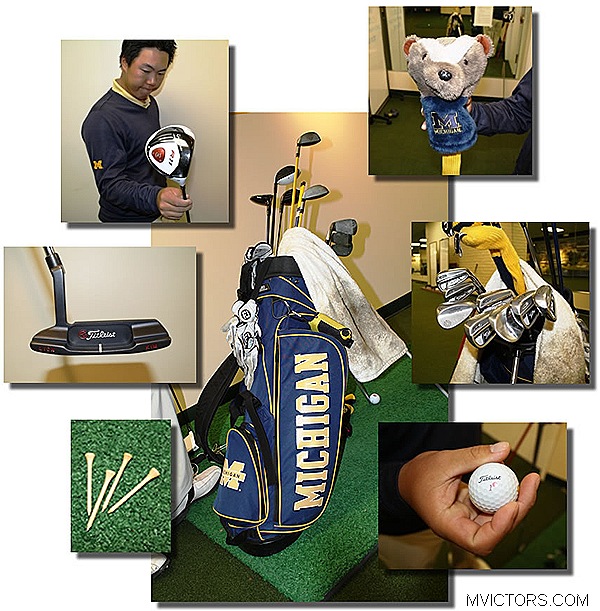 · Golf Bag: No, Kim won't be bringing a Rodney Dangerfield-style giant pro bag to The Masters. His caddy will be carrying a small blue bag with 'MICHIGAN' emblazed in maize running up the side. Why isn't he bringing the full size bag? "That's what the pros carry and I'm not a pro. Yet."

· Driver: Kim will be smacking the new Taylor Made R11 model which he's had for about three months. The white clubhead holds 9 degrees of loft and is attached to an extra stiff shaft.  Kim pounds it around 280 yards in dry conditions.  Keeping the clubhead safe is a cuddly stuffed animal that is umm..a half-bear, half-badger, I think??  "Yeah, that's supposed to be a Wolverine," Kim told me.
· Three Wood: When we chatted in March, Lion was still working on picking out the three wood that he'll use in Augusta. He had three in his bag and they each provide a little something different. I'm guessing he'll settle on the Cobra S9-1 that he's used since his freshman year. Kim told that with the Cobra he can crush it 270 yards on a dry course.
· Irons and Wedges: He's been using Titleist irons and wedges since he started playing golf and they'll come with him to Augusta. He replaces them every four months or so because the grooves wear out from all the work they in during practice and play. Titleist has been sending Kim clubs since the eighth grade, something that is cleared under NCAA rules. "Obviously we're not allowed to get paid but we're allowed to use the clubs."

· Putter: He's had a prototype of the popular Scotty Cameron putter since his sophomore year in high school and it's engraved with his name. Golf can make people follow funny superstitions and loyalties with their gear, but Kim doesn't buy into that. "I'm not afraid to switch out a club," he told me. "If I think a club will help me in that round, I'm not afraid to put it in the bag the day before a tournament." He's got around eight other putters back in his Ann Arbor apartment but almost certainly this one will challenge success with it and hopefully I can keep it going."the Alister MacKenzie greens of Augusta. "For some reason this putter's been real good to me," Lion shared. "I've had some
· Hybrid: Other than the putter, Kim's favorite clubs are the pair of "hybrid" clubs that are kept safe inside their maize and blue stripped knit covers. He's had them since his freshman year—with them he can shape shots, move the ball high or low and most importantly, make birdies.
· Ball: He plays last year's model of the popular Titleist ProV1 and he pointed out that he's not crazy about the latest version. I noticed many of the balls in his bag contain the familiar block M logo but he won't be carrying those at Augusta. "I don't use logo balls during tournament rounds because I like to keep my ball as simple as possible. When I putt I like to see nothing on the ball." To mark it, Lion uses a Sharpie to put a small red dot to the left of the ball number. He clarified that he's been doing that since he started playing golf and he doesn't want any Wolverine fans to get the wrong idea. "I know red isn't a popular color around here," he explained, with a laugh.
· Tees: Brown – no markings or logos.
· Ball marker: He doesn't have a lucky charm to mark his ball on the putting greens—he just grabs a quarter from his pocket. "I always have used a quarter. I don't like pennies because they are tough to find on the greens."
· Shoes: Wolverine fans will be happy to know that golf footwear giant Footjoy is sending him some special kicks for Augusta. One pair will be all-white with a Michigan logo on the side and another will be blue and maize.  Kim assured me, "It'll be easy to spot out on the range or on the golf course." Unfortunately I don't think he'll be wearing maize and blue argyle socks with knickers.
———————————————————————————————————————–
Best of luck to Lion and let's hope he gets some quality air time. You can catch him on ESPN during the first round on Thursday March 7.
For more on Kim:
* Check out the full article in the upcoming issue of GoBlueWolverine Magazine.  
* Michigan Golf home on mgoblue.com
* Gearing up for Augusta: Lion Kim Interview (from February)
* 2011 Invitee list from Masters.com