I spoke to Power Index pollster Lew a little bit during the Purdue game and suggested that at this point in the season, Michigan fans had pretty much settled on their opinion of Rodriguez and his staff at this point (no matter what happens the balance of the season). Well, if that point wasn't hit before or during the Purdue game, we've definitely hit it now. Win or lose to Minnesota, Northwestern and Ohio State, I think the fickle Michigan base has settled in with their opinion of Rich Rod and staff for the rest of the season and into the longest off-season we've had in 33 years.
I think it breaks down into about six categories, and here's my toss of turf in the air at where the Michigan football fan population fall: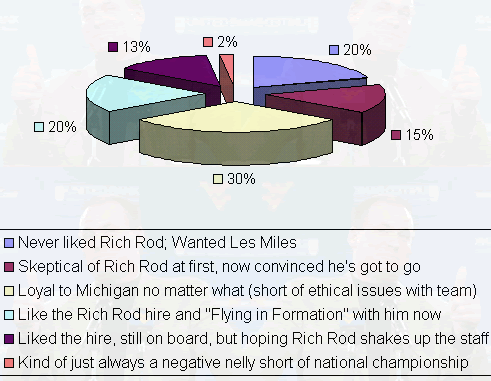 A few notes:
* The strongest group of Michigan fans (30%), are that loyal group that are on board no matter what. They would have been fine with a DeBord hire, for instance. You won't hear from them too often on blogs, on the radio, message boards.
* I think there's a lot of people out there (20%) that wouldn't fall into that loyal no matter what category, but are fully on board with Rodriguez and allowing him to do what's he's got to do (the 'In Rod we Trust' t-shirt wearing crew). It's not easy right now but they're patient, they're willing to endure this pain for the promise of what he can do. That's me FWIW.
* Then you've got your steadfast Les Miles, somewhat Michigan insider crew that just felt dissed by the whole process, although deep, deep, deep insiders didn't want Miles anyway.
* That 2% – the Greg in Saginaw's of the world if you listen to WTKA. I think they guy makes for great radio but I think you've got to understand it for what it is–the angry fringe.
* I think they Purdue game (and that final Purdue score) through the last few Michigan fans from the In Rod We Trust category and into the folks that are on board with Rich Rod, but think some changes are necessary..the biggest target of bloglove being Scott Shafer.
Where do you stand?