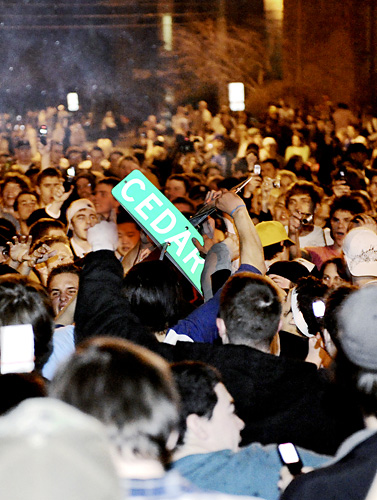 2008 Pulitzer Winner for Feature Photography – State News
Ah yes, all of the Michigan faithful stood up and had a good chuckle over the great MSU riot (officially deemed so by the local authorities). The shots are sharp and quick around the nerdosphere: see Autumn Thunder, M zone, Maize & Blog, Michigan Against the World
.
Takes:
1) You're slightly Jealous. Deep down all of us M blogging nerds are jealous that we didn't get to experience ragers of this magnitude. BiggieMunn, oh wise one of Spartan Avenue, please educate the Wolverine fans on what it feels to be at ground zero of Cedar Village. Did you see Elvis?
No one wants to be a part of people getting hurt, destroying property or stomach-pumping levels of booze consumption, but come on, part of you wishes you were hoisting a Das Boot on a balcony Saturday night.
2) It happened here, but not really It was April 6, 1992, back when hoops mattered, almost 16 years ago to the day. The Fab Five had just dropped the championship game to Duke and a bunch of numskulls including moi migrated down South University. I found a random mention of it on this site:
April 1992: Four people are arrested as Ann Arbor police use tear gas to break up an unruly crowd of about 4,000 after Michigan loses NCAA basketball championship to Duke, 71-51.
Yes, tear gas was used but I think it was more like a canister opened when it slipped off of Vada Murray's belt. Nothing burned, not even my eyes from the pepper spray. The four saps that were arrested were overheard sobbing, "just please don't tell my parents, man." Judging from the photos from Cedar Village The Great Riot of 1992 was about 1% as fun.