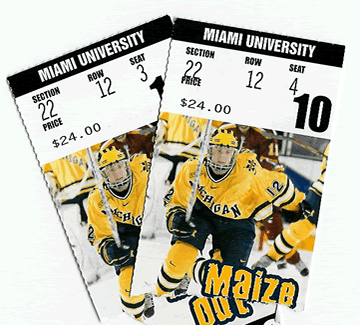 Played January 11, 2009, scheduled January 9, 2009
Red Berenson and crew continued its roll yesterday afternoon, wrapping up a sweep of Miami, OH with a 4-0 shutout. The rare Sunday tilt was of course due to the postponement of Friday's scheduled game, due to the structural issues uncovered at Yost Ice Arena.
This wasn't the first time a scheduled game had to be moved, and unfortunately many of the other incidents were brought on by darker circumstances. I thought this would be a nice opportunity to look at some of those instances:

1963 – Kennedy
The assassination of President Kennedy on November 22, 1963 moved out the Ohio State game which was scheduled to be played in Ann Arbor the next day.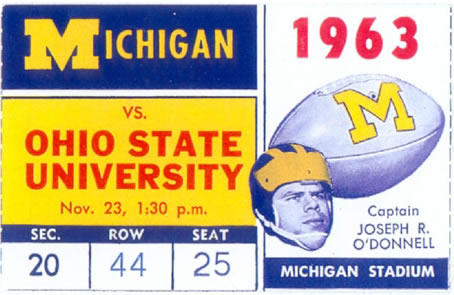 Played November 30, 1963, scheduled November 23, 1963
I was able to connect with Dr. Barry Dehlin, a sophomore on Bump Elliott's 1963 crew and ask him about his memories of the days surrounding the assassination. Here's what he wrote:
Naturally the assassination was a shock to all of us. I remember being in the dorm getting ready to go to practice when I heard what had happened. One of those sentinel moments in your life that you will always remember. We still met that Friday and the decision was already made that the game was postponed and would be played the next Saturday which of course was after Thanksgiving. The players would have to stay in town and not go home for Thanksgiving.

It was a cold week of practice but the interesting thing we did was bus to the Lions/Packers game on Thanksgiving. We sat on the field at Tiger stadium to watch the Lions and Packers tie. I believe that was the last game of the Lions and Packers on Thanksgiving for many years. That story I don't know. [Ed: Correct. That game, a 13-13 tie, was the end of a string of thirteen straight Thanksgiving Day games for the Packers and Lions in Detroit.]

The game then was played the next Saturday and Ohio won on a pass to Paul Warfield in the end zone just over the hands of Jack Clancy. Warfield of course had a fine pro career and so did Clancy, who also was a wideout in the pros. Also remember the college game before 1965 did not allow unlimited substitution. On a fumble or interception only 2 players could be substituted each down for the first series. It was a much different game.

Thanks for letting me reminisce.
Incredible stuff.
The Ohio State loss capped a tough run for Elliott's squad, as they finished 3-4-2 good for fifth in the conference. The following season, Dehlin along with captain Jim Conley turned things completely around capped off with a 10-0 victory in Columbus and a 34-7 thumping of Oregon State in the Rose Bowl.
2001 – 9/11
The September 11, 2001 attacks took place right in the beginning of the college football season and caused a few ripples throughout the schedule. Michigan pushed games against Western Michigan and Illinois out one week.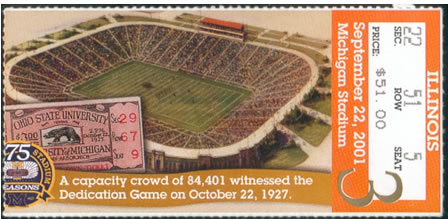 Played September 29, 2001, scheduled September 22, 2001
1918 – WWI, Flu
In 1918 football took a backseat to WWI and a massive flu outbreak. The schedule was a complete mess and the Bentley Library added a note to help sort out all the shifts/cancellations:
Scheduled games with Camp Custer (10/12), Michigan State (10/19), Ohio State (10/26 at Columbus), Northwestern (11/02), Cornell (11/16), Syracuse (11/16 in place of Cornell) and Minnesota (11/23) were canceled in response to the influenza epidemic and war-related travel restrictions. Only the Michigan State and Ohio State games were rescheduled.
Fielding Yost's Michigan squad ended up playing and winning five games that season and claimed the national championship. Ticketmuseum.com had a stub from the Michigan State (still named Michigan Agricultural College) game that season: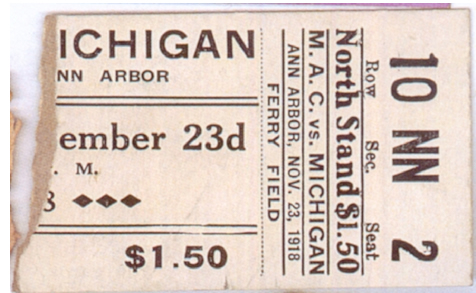 Scheduled October 19, 1918, played November 23, 1918, scheduled
You'll note that the ticket has the date of the day the game was actually played, not when it was originally scheduled. Assuming the Bentley's facts are correct on the date shuffle, they either printed new tickets (possible) or they were aware of the changes before they printed the 1918 tickets (likely).