Born on this day a century ago, Willis Ward.  The former Michigan track and football star was honored this season at Michigan Stadium: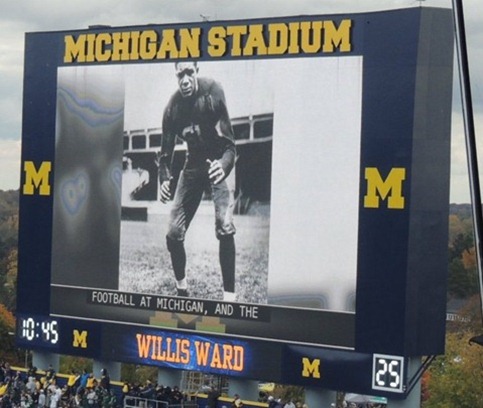 His involvement in the controversy around the 1934 Michigan-Georgia Tech game is of course chronicled in the documentary Black and Blue.  October 20, 2012 was declared "Willis Ward Day" in the State of Michigan.
Have a toast tonight to Willis Ward!
Related:
Living Legacy: Interview with U-M Senior Melanie Ward
Willis Ward Blitz
TWIWMFbH – Live! Willis Ward, Gerald Ford and 1932
The Willis Ward Protests (1934)
Faster Than Jesse Owens (1935)
Follow MVictors on Twitter