Funny, for tomorrow's game we were supposed to honor perhaps the most famous (non-POTUS) Michigan athlete of all-time—Tom Harmon.   That didn't work out.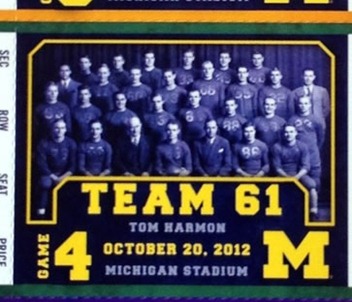 Instead, we will be recognizing honoring one of the most controversial moments in Michigan football history—Willis Ward and the 1934 Georgia Tech game– something that occurred just a few years before Old 98 stepped on campus.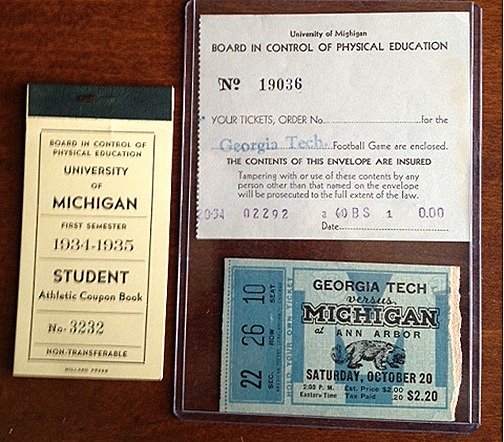 My mini Ward shrine I've had for a few years:  student ticket booklet, order form for tickets to the Tech game and of course the stub.
The Ward story is blowing up here and there and there's more to come.   There's no pre-recorded episode of This Week in Michigan Football History as I will be live in the coveted WTKA Bud Light (M)Victors Lounge on Saturday around 1:30PM EDT discussing 1934, Ward, Ford, Kipke and much more with Sam, Ira and Brian Kruger from Stunt3 Multimedia—producers of the wonderful documentary Black and Blue.   For those out of town, I highly recommend tuning in via iHeart Radio or via the iHeart Radio app.
Elsewhere:
* Don't miss the piece by Stephen Nesbitt of The Daily on the Ward affair.  Includes a small line from me and loads of Bacon, which is never a bad thing.  From 'The Forgotten Man: Remembering Michigan trailblazer Willis Ward', check out this nugget:
It was April 13, 1934: Michigan vs. California.

Bing Crosby was betting against Willis Ward.

Rumbling up the West Coast by train from Los Angeles to Berkeley, Calif., two of Ward's teammates — Dave Hunn and Bill Kositchek — met Crosby and struck up a conversation. Before walking away, there was a bet on the table.

For $10, who would win the 100-yard dash later that day between Ward and California's George Anderson? Crosby took Anderson, the Michigan tracksters took Ward.

Anderson edged Ward by a hair at the finish line, and Hunn and Kositchek paid up their half of the bargain by taking out an ad in the corner of the Daily later that week congratulating the crooner.
The story of Willis Ward and Gerald Ford and Oct. 20, 1934 will be told at the Big House on Saturday. Few know it, but everyone should.
* Finally this photo via Brian Kruger.  Ward's gravesite got tidied up recently and Kruger added an accessory: