Readers know I've been pushing for a while to have Willis Ward honored by U-M.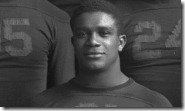 While that hasn't happened just yet, this isn't half bad either–last week the State of Michigan Senate unanimously passed a resolution to declare October 20, 2012 as "Willis Ward Day" throughout Michigan.  
The Detroit News is getting behind the idea as well.  Check out the editorial from September 29:
A petition for history's sake

On Oct. 20, 1934, U-M football star Willis Ward was held out of a home game against Georgia Tech because the Southern school refused to suit up against a black player. The incident is widely regarded as the darkest day in the proud, 133-year history of Michigan football. As much as Michigan alums and the Ann Arbor community tried, they were unable to get then-athletic director Fielding Yost to stand for right and defend his player. Exactly 78 years later, on Oct. 20, Michigan faces the Michigan State Spartans in a home game. Filmmakers Buddy Moorehouse and Brian Kruger, creators of "Black & Blue," a documentary on Ward (and teammate and future U.S. President Gerald Ford, who almost quit after Ward's mistreatment) have started a petition on change.org to get U-M to honor Ward on the 20th, with the whole world watching. Signing the petition will help. Officially honoring Ward and acknowledging the incident would be better. Getting Georgia Tech back on the schedule would bring the story full-circle.
And check this out: part of the momentum to honor Ward was created by an 8 year-old girl named Genna Urbain, a third-grader at Hilton Elementary School in Brighton, MI.  [Ed. When I in third grade my contribution to society involved catching turtles and frogs and then letting them go.]  Via LivingstonPost.com:
Earlier this year, Genna and her mother, Alicia, watched the Emmy-nominated documentary, "Black and Blue: The Story of Gerald Ford, Willis Ward and the 1934 Michigan-Georgia Tech Football Game," produced by Stunt3 Multimedia of Detroit. Genna was fascinated and outraged by Willis Ward's story, and was especially upset when the film pointed out that Ward has never been honored or recognized by U-M.

Genna took it upon herself to personally lobby both the University of Michigan Board of Regents and members of the Michigan Legislature, urging them to honor Ward.
Here's the full press release on Willis Ward Day via Stunt3 Multimedia:
State Senate Votes to Name Oct. 20, 2012, as Willis Ward Day in the State of Michigan, Honoring U-M Football Player Who Was Benched Because of His Race in 1934

LANSING, Michigan (September 27, 2012) – The Michigan Senate voted unanimously today to proclaim Oct. 20, 2012, as Willis Ward Day in the state of Michigan, honoring the black University of Michigan student-athlete who was benched because of his race when U-M played Georgia Tech in football on Oct. 20, 1934.

The resolution was sponsored by Sen. Tonya Schuitmaker, R-Lawton, and it all came about thanks to the lobbying efforts of an 8-year-old from Brighton named Genna Urbain.

Earlier this year, Genna and her mother watched the Emmy-nominated documentary, "Black and Blue: The Story of Gerald Ford, Willis Ward and the 1934 Michigan-Georgia Tech Football Game," produced by Stunt3 Multimedia of Detroit. Genna was fascinated and outraged by Willis Ward's story, and was especially upset when the film pointed out that Ward has never been honored or recognized by U-M.

Genna took it upon herself to personally lobby both the University of Michigan Board of Regents and members of the Michigan Legislature, urging them to honor Ward. Sen. Schuitmaker took her up on the request, sponsoring the resolution that was adopted today. Genna was invited onto the Senate floor when the resolution was approved.

In her remarks on the Senate floor today, Schuitmaker noted that Michigan has another home game this year on the 78th anniversary of the Georgia Tech game.

"Oct. 20 is significant this year as the date that Michigan and Michigan State will play their game in Ann Arbor," Schuitmaker said. "I urge my colleagues to see this incredible film, called 'Black and Blue.' "

The producers of "Black and Blue" have mounted a campaign to have Ward honored at the Michigan-MSU game on Oct. 20, but U-M athletic department officials have not yet indicated a willingness to do so.

Ward was an incredible African-American student-athlete from Detroit Northwestern High School who starred in both football and track at U-M (he actually beat Ohio State's great Jesse Owens twice in track matches). When Georgia Tech came to Ann Arbor for a football game on Oct. 20, 1934, the visiting Yellow Jackets said they would refuse to play the game if a black man were allowed to play. Michigan eventually agreed to bench Ward, their lone black player, barring him not only from the game, but also from the stadium. It remains the only time in U-M history that a player was benched because of his race.

The decision caused a national uproar in 1934, and infuriated many of Ward's teammates, including his best friend on the team – a tall lineman from Grand Rapids named Gerald Ford. Ward and Ford remained lifelong friends, and the incident had a profound impact on Ford's politics, shaping his opinion on such things as civil rights and affirmative action as he moved from Congress to the White House.

Ward went on to lead an amazing life, blazing trails at every turn. Upon graduation from U-M, he went to work for the Ford Motor Co. as the head of its ad hoc Civil Rights Division, serving as a liaison between black and white workers and reporting to Henry Ford himself. He later served in the U.S. Army during World War II and attended law school, becoming the first black chairman of the Michigan Public Service Commission and the first black probate court judge in Wayne County. He died on Dec. 31, 1983, at the age of 71. This year is the 100th anniversary of his birth.

"This is a well-deserved and long-overdue honor for Willis Ward, and we thank Sen. Schuitmaker for taking on this cause," said Brian Kruger, who produced "Black and Blue" along with Buddy Moorehouse. "It's a fitting tribute to a man who displayed such character, grace and dignity throughout his life. It's heartwarming to know that Oct. 20 will be celebrated throughout Michigan as Willis Ward Day. It would be a shame, though, if Oct. 20 wasn't also celebrated and observed that day at Michigan Stadium. Willis Ward was banned from Michigan Stadium on Oct. 20, so he should be welcomed back to Michigan Stadium on Oct. 20."

A trailer of "Black and Blue" is available here:

http://www.youtube.com/watch?v=VAxx5UzKqPA

The online petition to have Willis Ward honored at the Oct. 20 Michigan-MSU game is available here: