Good Wednesday to you. Leading off…T Mills: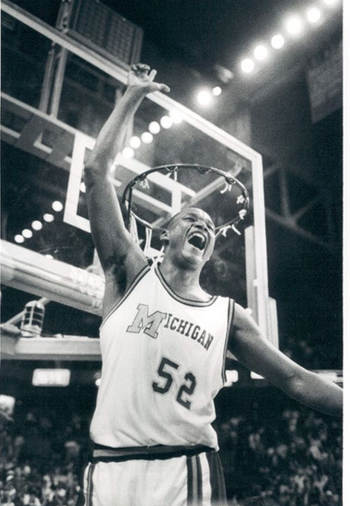 Leading off, the man coach Bill Frieder personally visited at Romulus High literally hundreds of times – to keep him away from Jud Heathcote and MSU, here from April 1989 presumably from the Kingdome following the NCAA title victory (Ed. However as a commenter pointed out, M wore blue of course in the finals—so perhaps an earlier round or something else].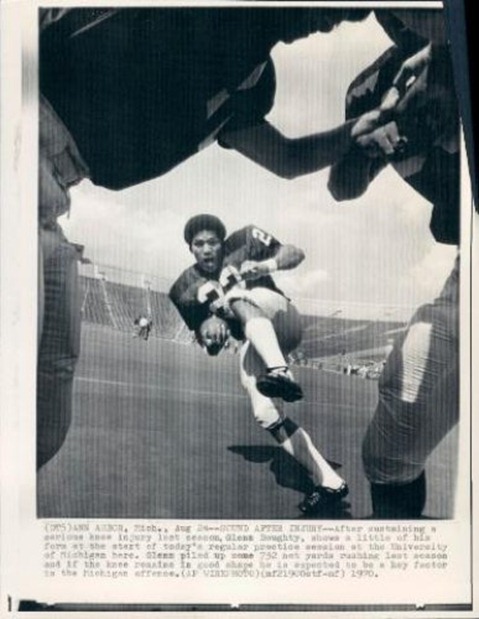 From 1970, an awesome shot of back Glenn Doughty posing between an unidentified pair of Bo's bruisers. Great shot. Following his Michigan days he became Shake and Bake, and later (after completing his PhD in Groove from Funkalicious University [Dearborn]), just Dr. Shake:
He earned the nickname "Shake and Bake" during his years with the Colts, and the nickname was also extended to the 1975 Baltimore Colts offense.

The Colts Record of 10-4 reversed the prior year's 2-12 record to set the greatest one year turn-a-round season in NFL History. The Colts won the Eastern Division Championship. Doughty played a key role in leading the Colts to three straight Eastern Division Championships for the first time in Colts history.

1975 also saw Doughty, a Motown native, create the Shake & Bake Band. The Group consisted of Tight End Ray Chester on bass, Lloyd Mumford Defensive Back on harmonica, Fred Scott Wide Receiver percussion, DT White Wide Receiver lead guitar, Bruce Barnett a shoe salesman on drums and Doughty (Dr. Shake) lead singer, composer on congas. The Shake & Bake Band performed at numerous clubs around Baltimore on Monday Nights arriving in a stretch limo at each location. The Band's appearances were promoted on the Memorial Stadium scoreboard. Many Colts fans felt the group sounded and looked like the famous California group WAR. The popular Shake & Bake band was invited to play on the Johnny Carson Show, but practicing for their Playoff game vs the Steelers prevented this from happening. The Band became one of only a handful of Players' musical groups in NFL history to record two records; Shake & Bake and Star Flight Disco in 1976. The intro to Shake & Bake was performed by Hall of Fame Broadcaster Chuck Thompson.
Anyone have any clips of any of these songs I need them –—- STAT!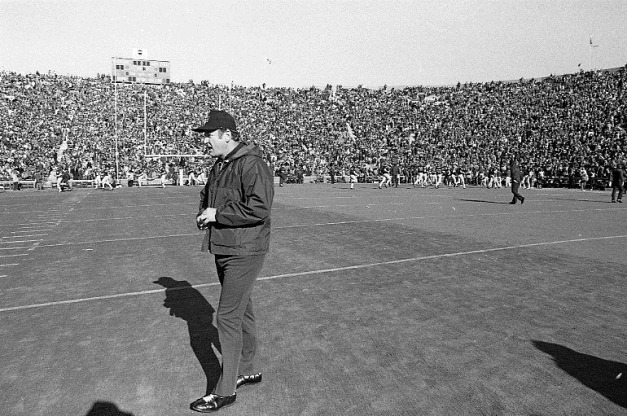 Another 35MM makes the cut, this time with a beautiful shot of Bo patrolling the fielding in 1975 during pregame. It almost looks like he's reaching for a chew? But I don't think Bo dipped – anyone?
Update: A better thought from Dr. Sap: "Bo was probably reaching into his bag of confetti. He had a pre-game ritual of throwing the confetti into the air just before kickoff to determine wind strength and direction. This would assist him in deciding which end of the field to select for the coin toss and whether it was too windy to pass the ball."
Previous editions:
Follow MVictors on Twitter