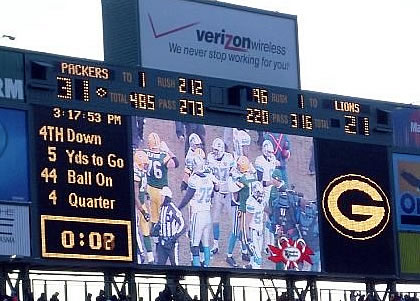 As we conclude Wildcard weekend today, I thought I'd offer one back look at the miserable Lions.  A friend of mine, Paul, made the trek to Green Bay last weekend to witness a bit of history as Detroit failed to prevent what's widely considered the worst season in pro sports history.
I asked him to send me a few takes and photos from the trip, enjoy:
We didn't have any issue getting tickets, but because every game at Lambeau is sold out for years to come we had to go to StubHub.  We bought very nice seats that had a $62/face for $106.
We drove in for the game and it was a mess getting to the stadium.  It took us an hour to travel the last five miles.
As far as the tailgating environment, they have a bunch of special tents set up around the stadium and around Brett Favre's steakhouse.  There were folks tailgating where they parked but they really don't have large parking lots around the stadium.   It was  a lot of car dealership lots, truck stops, car pool areas, and malls.
Lambeau looks like they took Spartan Stadium except it's painted yellow instead of white.   Similar press box, ramps, scoreboard. They really don't have any advertising inside the stadium except for on the scoreboard.   The food was very cheap relatively speaking.  I paid $5.50 for a beer; $3.75 seat cushions.
While it could have been due to the meekness  of the opponent, the Green Bay fans were very friendly.   I'm guessing it we were Bears or Vikings fans it would have been a lot different.
Here's a few more photos: