So I'm listening to the WTKA 'Fantastic Friday' broadcast prior to the Alabama beat down.  Former U-M kicker Phil Brabbs took a break from kicking cancer's ass & called into the show.  Naturally the topic of his splendid game-winning kick against Washington in 2002 came up.
Then this happened: someone on Twitter pointed out that it was the 10th anniversary off that kick.  After the obligatory sadness  (I'm getting old) I realized that there's really no reason that such dates and anniversaries should be sneaking up and biting us.
So this week I pinged the brilliant Craig Barker of The Hoover Street Rag for help and away we went on this concept.  We started plugging in key dates in the history of the football program – the good, the bad, birthdays, deaths, special anniversaries and milestones.   It's a publicly available Google Calendar and I'll keep it as a page in the tabs above, and post the upcoming events on my sidebar (scroll down).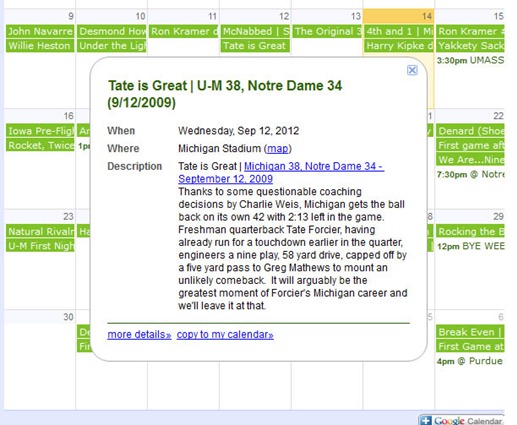 Again, we have just started (177+ entries, some need tweaks) but I like what we have so far.   And thanks to Craig – your entries are spot on and yes, I love this one.
Check it out.  For starters – Did you know Harry Kipke died on this day 40 years ago?  Did you know 'The Catch' happened on this day on 1991?.  I did!
Update: As noted in the comments, if you want to add this to your Google calendar it's under my email address:  mail[at]mvictors.com
Follow MVictors on Twitter