Hump Day! Wire Photo Wednesday leads with something near and dear to my heart, the Little Brown Jug: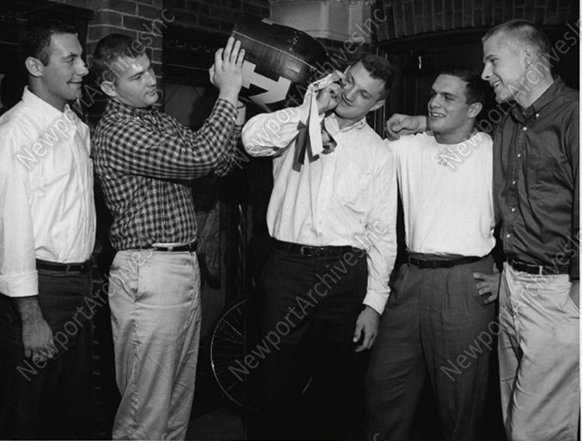 A great shot of a few men from Bennie Oosterbaan's 1957 roster. Left to right I believe you've got: Stan Noskin (QB), Dave Brown (QB), '57 captain Jim Orwig (LT) taking a pull, Larry Faul (LG) and Jerry Goebel (C). We don't have a lot of information on this shot, but it looks like it appeared in the Minneapolis Star, making me think it was shot just prior to the '57 battle for the Jug. The caption also says that's a replica – which is looks to be (for starter, there are no scores down the side, at least on the side we can see…). Good news – Orwig took back the real jug after Michigan's 24-7 victory on October 26, 1957.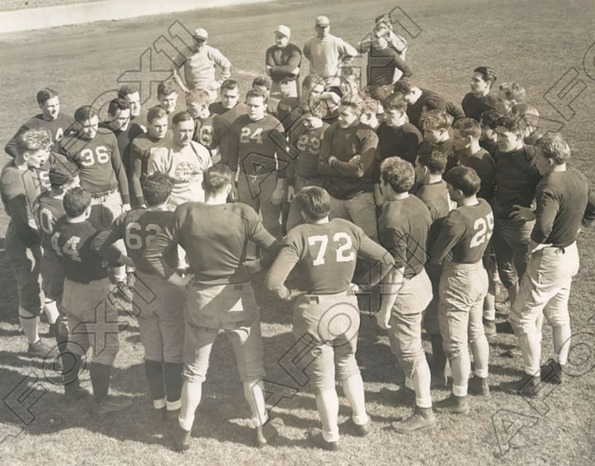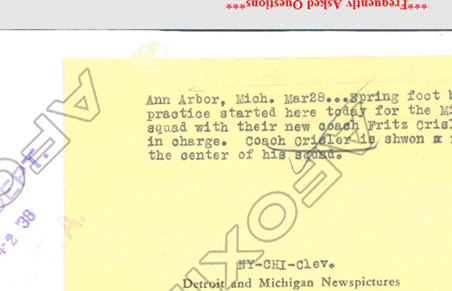 Fritz: "..and finally, we're getting new helmets..with yellow wings on them."
[Team breaks out in laughter]
Fritz: "Trust me on this one. Wings are the future. Wings I tells ya."
So I've seen this shot on eBay before but never noticed the significance of the date it was taken. This is actually a pretty historically significant shot from March 28th—the start of Spring football back then. This is probably one of, if not the first, published photo with Fritz Crisler and a Michigan team. Fritz of course had just been wooed from Princeton to replace Harry Kipke, who was unceremoniously canned in December 1937. Good stuff.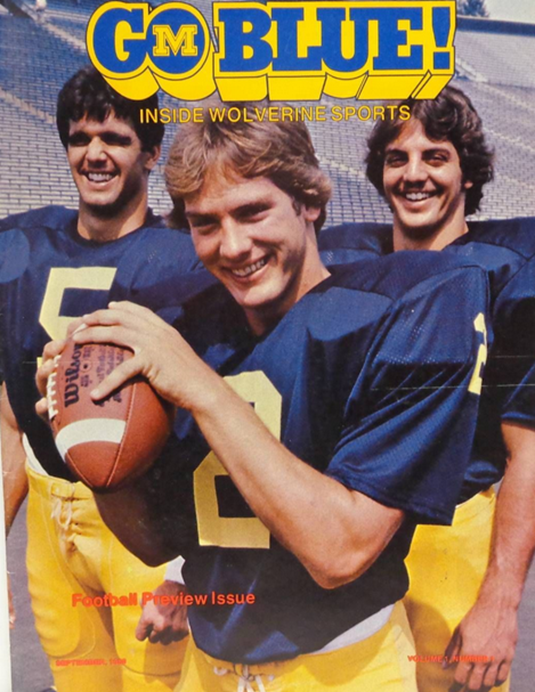 Not a wire photo per se, but pure eBay gold nonetheless. Left to right you've got QBs Johnny Wangler, Rich Hewlett (with the pigskin) and Steve Smith on the cover of "GO BLUE Magazine". Looks like the photog asked them to say the word "Girls!" because these guys caught a case of the giggles for this shot.
Previous editions:
Follow MVictors on Twitter