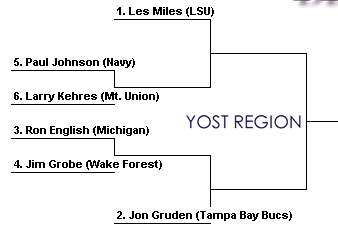 The first round of the 'Death March Madness' tournament (full bracket here – background here). Here's a printable version.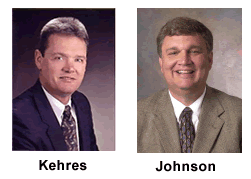 Larry Kehres vs. Paul Johnson
An interesting match-up a two coaches you may know about but have caught the eye of several Michigan fans. In the September poll of potential candidates to replace Lloyd Carr I didn't include either of these men, but Kehres received a bunch of write-in votes due to his great success at tiny Mt. Union. Navy headman Johnson has caught some notice for his work with the Midshipmen and especially his great win over the suffering Irish. Here's a little more on each man:
On Kehres from the Mt Union official site:
Under Kehres, the Raiders have won nine Division III National Championships in the last 14 years ('93, '96, '97, '98, '00, & '01, '02, '05, '06). Since 1990, the Raiders have made 16 playoff appearances while posting college football's most wins and best winning percentage (216-10-1/.954). During the last 15 regular seasons, his teams have posted a phenomenal 148-2 overall mark. For his efforts, Kehres (246-20-3/.920 at Mount Union) has been named the AFCA Division III National Coach of the Year eight times ('93, '96, '97, '98, '00, '01, '02, '06) – voted on by the American Football Coaches Association.
On Johnson, from the Navy official site:
Johnson took over a program that had posted a 1-20 record the previous two years before his arrival in 2002. After a 2-10 mark in his first year, the Navy football program has achieved what many thought was no longer possible at an Academy, as Johnson has brought the Midshipmen back into the national spotlight with a 35-15 (.700) record over the last four years and has led Navy to a school-record four-straight bowl games and a school-record four-consecutive Commander-In-Chief's Trophies. The 35 wins are the second most in program history over a four-year time span. Johnson's .744 career winning percentage (99-34) ranks 10th among all active coaches. Like a fine wine, Johnson's teams are better as they age [it really says this]. Over the last four years, Navy has posted a 10-2 (.833) record over the final three games of the season and has outscored the opposition, 464-246, in those contests. Navy's appearance in last year's Meineke Car Care Bowl was the Mids' fourth-straight bowl appearance with a different quarterback, marking just the fifth time in NCAA history that a team has made four or more bowl appearances with a different starting quarterback each season.

Johnson's teams have been successful off the field as well, as Navy ranks No. 1 in the country in graduation rates.
So what do you think? The winner will take on #1 seed Les Miles of LSU.
UPDATE: We have a winner. Paul Johnson of Navy advances with 58% of the vote!. Here's the most current match-up:
{democracy}