The second round of the 'Death March Madness' tournament (current bracket HERE – background here). Here's a printable version.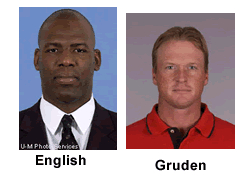 Ron English (Michigan D coordinator) vs. Jon Gruden (Tampa Bay Bucs)
How they got here: #2 seed Gruden received a bye in the first round. Ron English won a close match-up against Wake Forest headman Jim Grobe in the first round which really could have gone either way. English pulled away late.
As for Ron English, what a difference a year makes [bio mgoblue.com]. If we went back into time, just prior to the Ohio State game in 2006 I think Ron English would hands down be the choice to succeed Carr by the majority of Michigan fans. The only concern back then would have been experience and this concern remains. Michigan went on to lose four straight ugly games (OSU, USC, Appalachian State, Oregon) and now they've lost two more. The defense has looked shaky all year and the idea of English becoming the next head man at Michigan is tough to envision. He'll get an interview and he'll make his case, but my guess is that the Wolverines and English will be parting ways next season.
He's clearly got a lot of fans as he received the most votes out of any candidate in Round 1. His passion is undeniable. You can hear him barking at players 45 rows from the bench in Michigan stadium. He's got a master's degree from Arizona State and played four seasons at Cal. He impressed the Chicago Bears enough in 2006 to earn a position on their staff but quickly returned to Ann Arbor when offered the defensive coordinator position and there were no doubt some conversations about being Carr's successor. One thing we know: English wants the job and is prepared to "attack the interview." [Detroit News].
Jon Gruden is just one of those guys that's going to come up in the conversation [bio from buccaneers.com]. He of course gets instant cred with the Super Bowl ring. Unlike many NFL coaches, his Pete Carroll-esque charm and enthusiasm might make him a decent fit for the college game. He grew up in Ohio and earned three letters at Dayton where he played quarterback, so living in Ann Arbor wouldn't present a major culture shock. He then went on to Tennessee and Pacific before heading to the NFL. It didn't take him long to get a head coaching gig and he's got 9 years under his belt, 5 with Tampa Bay.
Don't know if Bill Martin will bother to call or if Chucky will listen. The Michigan job came up in a recent press conference but Gruden just laughed (but he didn't deny anything, haha). Vegas thinks it's a possibility as he came off at 10 to 1 to get the gig. We'll see.
UPDATE: It's Gruden with 67% of the vote. Clearly you want the old guard out, as English and DeBord each got smoked. Here's the current match-up:

{democracy}